Department Spotlight
Key Makes Connection a Priority through Special Programming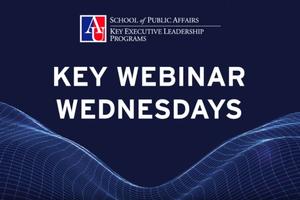 Dr. Patrick Malone, program director of the Key Executive Leadership Programs at the School of Public Affairs (SPA), considers Key's vision of executive development to be based on mutual trust and emotional intelligence rather than theoretical models––a tradition established by the late Don Zauderer, who founded the program in the late 1970s to serve the federal sector. Program goals prioritize human context over academic content, in order to form and maintain productive and sincere workplace connections. Its sought-after certificate programs, cohort-based, with a total of 500-700 students at any time, launch with an intensive orientation during which students share space, childhood stories, and life and workplace challenges.
So, what to do when a global health crisis mandated that the program shift to a digital-only format? Key's interpersonal component is incredibly important, said Malone, so it presented a challenge. "They miss each other," said Malone. "We've built an incredible family here, and we wanted a way to stay together." Key and its clients decided to postpone actual course content until the fall and use this time to highlight some of the issues that employees may be facing in quarantine. "The priority is connection, not content...But how do we maintain [these bonds] using an online platform like Zoom?"
Key faculty and staff quickly developed three tracks of programming. "Webinar Wednesday," a free weekly talk open to the public, immediately "sold out," of the 275 available slots, said Malone, who conducted the first installment on March 25, with a lecture entitled "Kindness in Difficult Times."
Malone's lecture, which typically focuses on toxic behavior in the workplace, addressed some outcomes of quarantine, like loneliness, anxiety, fear, and lack of routine and consistency. Key faculty have lined up content for five weeks, with titles such as "Leading in Fearful Times," and "Building Trust in the Workplace." All sessions will be recorded and made available online.
In addition, Key certificate students will access the five-part Brownbag Lecture Series beginning the week of March 30. Each of the 15 current cohorts will attend each talk as a group, meaning that each of the five contributing Key faculty members will present and mediate open discussion 15 times.
A third track of digital programming is Mindfulness Mondays, led by Dr. Ruth Zaplin, a Key professor and faculty member in the SPA Department of Public Administration and Policy, at 8:30 AM. Zaplin guides participants in specialized meditations designed for professionals.
Going forward, Malone hopes to extend online programming to Key alumni. With 5000 program graduates in federal leadership across the globe, he sees an opportunity to refresh the ideals of Key using the online skills adapted during this period.
Key's focus on interconnection during the Covid-19 crisis will be no surprise to alumni, or anyone familiar with the program. During program accreditation, an external auditor interviewed Key alumni, and their employers and coworkers. He recognized what he called a "glow" on program participants and the undertaking. Malone recalls him saying, "You've got something special here. How do we replicate it elsewhere?"
"This is not a best practices program," replied Malone. "Leadership is not an intellectual pursuit; it is an interpersonal pursuit. We are very comfortable that [the leadership programming] that we do on heart and soul is unique."