Alumni
PhD Grad's New Book Challenges the Myth of Martyrdom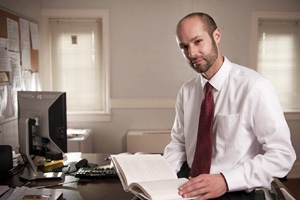 Suicide bombers are driven by the desire to die – but not to die for a cause, according to groundbreaking research from SPA PhD grad Adam Lankford and the author of the new book The Myth of Martyrdom: What Really Drives Suicide Bombers, Rampage Shooters and Other Self-Destructive Killers (Palgrave Macmillan, 2013).
Upcoming Event
Adam Lankford will give a presentation on Thursday, February 28 at 4:30 p.m. in History Lounge, First Floor, Batelle-Tompkins.
The AU community is invited to attend this event, sponsored by the Department of Justice, Law & Society.
Reviewing love letters, diary entries, martyrdom videos and other personal documents left behind by more than 130 suicide terrorists, Lankford found overwhelming evidence that these individuals met clinical criteria for being suicidal.
His findings counter the prevailing assertions of experts worldwide that suicide bombers are generally motivated by "altruism and sacrifice, not their own psychological pain or desire to die," said Lankford, who received a PhD and an MS in Justice, Law and Society from SPA.
"There is a critical difference between the tiny fraction of terrorists who decide to blow themselves up and those who are willing to risk their lives for their ideologies but at the end of the day want to survive."
Most people with suicidal tendencies learn to disguise their pain, according to Lankford. This mask requires digging beneath the surface to understand their true motivations and feelings, whether a suicide bomber or a suburban adolescent. Lankford asserts that culture and context are the only key elements separating the troubled minds behind the Sandy Hook, Virginia Tech, and Columbine shootings from those behind suicide bombings killing innocent bystanders in the Middle East.
Lankford came to AU just two years after the senseless tragedies of September 11, 2001, attacks that fueled his untapped interest in criminology. 
"Even as an undergrad English major, I was drawn to books like In Cold Blood and Crime and Punishment to analyze the psychology of their characters and try to understand what makes people do bad things," said Lankford, who is now a criminal justice professor at the University of Alabama.
Lankford's dissertation at AU focused on social and situational psychology--the external forces that shape people and their behavior. He used skills in comparative analysis honed through the JLS PhD program to look at the common psychological threads tying together the acts of Nazis, Al Qaeda terrorists and "ordinary" subjects driven to evil acts during classic psychology experiments. Lankford's interest in the psychology of suicide bombers and other terrorists was further sparked while helping SPA Professor Richard Bennett coordinate anti-terrorism forums in conjunction with the U.S. State Department.
The research has important policy implications, particularly in developing early warning signs into criteria to predict and prevent further suicide terrorists or rampage shooters from harming themselves and others. Lankford has already received calls from a representative of the White House and other high-ranking officials interested in exploring applications of his research, which has garnered the attention of CNN, The New Yorker, and dozens of other national and international media outlets.  
"There is really a lot we can do with this knowledge," he said, "but we have to change public perceptions of suicide terrorists before we can begin to deter future acts of violence."