Research
Jennifer Lawless Appointed Senior Fellow at Brookings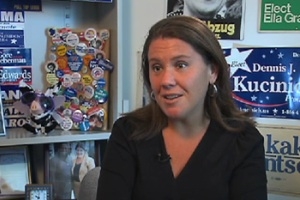 Jennifer Lawless, director of the Women & Politics Institute and a professor of government at the School of Public Affairs, has been appointed a nonresident senior fellow in the Governance Studies Program at the Brookings Institution. She will conduct research and provide policy analysis on gender and youth issues. During her appointment, she will remain a full-time SPA faculty member.
"Jennifer is a nationally recognized authority on gender and youth issues," said Brookings Vice President Darrell West. "We want to take advantage of her expertise and have her write some papers for us on ways to improve political engagement with women and young people."
Professor Lawless' research focuses on political representation, political ambition, and gender in the electoral process. She is the author of Becoming a Candidate: Political Ambition and the Decision to Run for Office and co-author of It Still Takes a Candidate: Why Women Don't Run for Office, both books published by Cambridge University Press. Her research has appeared or is forthcoming in many academic journals, including the American Political Science Review; American Journal of Political Science; Perspectives on Politics; Journal of Politics; Political Research Quarterly; Legislative Studies Quarterly; and Politics & Gender, where she served as editor from 2010 to 2013.
She is also a nationally recognized speaker on electoral politics. Her scholarly analysis and political commentary have been widely sought by national newspapers, magazines, television news programs and radio shows. Currently, she is writing a book with Richard Fox on how the contemporary political environment has turned off the next generation to politics, and another with Danny Hayes about gender differences, or the lack thereof, on the campaign trail for congressional candidates.
"I am honored to join such an impressive group of scholars," said Lawless. "I can think of no better venue for disseminating my research and shaping the national dialogue about women and young people's political engagement, ambition and representation."
Brookings brings together more than 300 leading experts in government and academia from all over the world who provide research, policy recommendations and analysis on a range of public policy issues.