Government & Politics
Leadership in Action: Bipartisanship and Criminal Justice Reform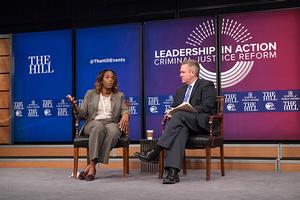 In a rare moment of bipartisanship, the U.S. Congress approved criminal justice reform legislation last year that was signed into law.
The pathway to passage and implementation of the Formerly Incarcerated Reenter Society Transformed Safely Transitioning Every Person, or FIRST STEP Act, was discussed at an event sponsored by the AU School of Public Affairs, the AU Kennedy Political Union, and The Hill news organization.
U.S. Senator Ben Cardin (D-Md.), U.S. Congressional Representatives Jim Clyburn (D-S.C.), Doug Collins (R-Ga.), and Stacey Plaskett (D-USVI) headlined the event, along with advocates Nicole Porter of The Sentencing Project and Topeka Sam of The Ladies of Hope Ministries who talked about fair sentencing and improved prison conditions from the nonprofit sector.
"The FIRST STEP Act is just that, a step in the right direction," said Kim Ball, director of SPA's Justice Programs Office. "It seeks to lower federal prison populations and reduce recidivism through rehabilitative programming."
The United States is less than 5 percent of the world's population, but nearly 25 percent of world's prison population and growing. While the new law reduces and clarifies mandatory minimum sentences, Ball said more needs to be done. To address the problem, research at JPO has shown how interventions, such as drug courts, can help break the cycle of arrest and incarceration, she said.
Ball and others at the event called for a collaborative approach among the various justice sectors and continued cooperation on Capitol Hill.
"So often with legislation you need to take the incremental steps," said Rep. Clyburn, who serves as House Majority Whip. "In the end, I think we will have good, comprehensive reform."
Republican Rep. Collins of Georgia, who cosponsored FIRST STEP in the House with Rep. Hakeem Jeffries (D-N.Y.), said the legislation gained traction because it had both moral and monetary appeal. "We are always looking at the bottom line to save taxpayer money," said Collins, who told President Trump at the signing ceremony it was "a bill that actually has faces behind the lines."
The measure, signed into federal law in December, was criticized by some as not going far enough. Advocates would like to promote alternatives to incarceration, change technical violations of supervision that lead to re-entry to prison, and improve the treatment of mentally ill inmates.
The event concluded with Senator Cardin explaining his proposed legislation that would restore voting rights to ex-felons.
"The bill is pretty simple. Once you have paid your penalty, you've served your sentence and you've been released from prison, you should be able to vote," said Cardin, who noted 1 in 13 African-Americans — or 6 million people — are disenfranchised in the U.S.
Today, most states limit or deny voting rights of felons, and some ban them from casting a ballot for life. Studies show that those who are released from prison and are engaged in a civic way, including voting, are much less likely for recidivism, said Cardin.
"The question is: Do you want people to have a second chance? To deny those who have paid their penalty, the right to participate in our society, means they are isolated and more likely to participate in crime," said Cardin, adding that he anticipates bipartisan support for the bill. "I think this is the right time to pass this legislation."
This event was one in a series on bipartisanship, sponsored by the AU School of Public Affairs, the AU Kennedy Political Union, and The Hill news organization. Watch the archived livestream.