Achievements
Lewis Faulk Receives Cleary Award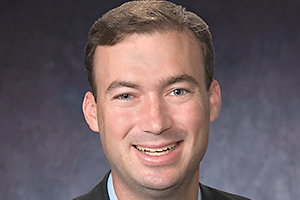 Lewis Faulk, assistant professor of public administration, is the recipient of the inaugural Robert Cleary Award for Excellence in Public Affairs Research. This annual award, named in honor of emeritus professor Robert Cleary, is awarded to a School of Public Affairs faculty member for an exemplary research publication related to the nonprofit sector published between May 2012 and April 2013.
Professor Faulk received the Cleary Award for co-authoring, "An Analysis of Gender Pay Disparity in the Nonprofit Sector: An Outcome of Labor Motivation or Gendered Jobs?" The research was published in the September 2012 issue of Nonprofit & Voluntary Sector Quarterly.
The research provides an in-depth analysis of the pay gap between men and women in nonprofit organizations, and specifically explores how much these gaps vary by industry in the nonprofit world (i.e. arts, education, healthcare). Faulk and his coauthors find that pay gaps vary substantially by industry within the nonprofit sector, identifying some sectors where the male pay advantage is even higher than in for-profits and government, and others where women make more than comparably qualified men.
Faulk's research and teaching expertise spans the topics of foundation grant-making, competition in the nonprofit sector, diversity and wages in the nonprofit workforce, and nonprofit management. He has a Ph.D. in public policy, with a concentration in nonprofit and public management from the joint Ph.D. program in public policy at Georgia State University and the Georgia Institute of Technology. Faulk teaches nonprofit management courses in the Department of Public Administration and Policy, including Nonprofit Resource Development.
The Cleary Award was established through the generous support of an anonymous graduate of the School of Public Affairs. The gift honors Professor Cleary's many contributions to American University and the School of Public Affairs. In addition to his long and distinguished career as a faculty member, Professor Clearly also served the University as interim president, provost and dean of the school.