Achievements
SPA Assistant Professor Lewis Faulk Named CORD Fellow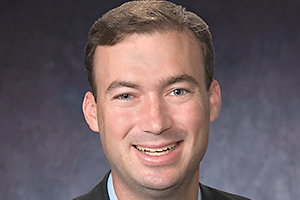 AU School of Public Affairs Assistant Professor Lewis Faulk has been appointed a Research Fellow of the Center for Organization Research and Design (CORD) at the Arizona State University School of Public Affairs.
Faulk is one of 60 international fellows with a wide variety of organizational research interests. They contribute to CORD's goal of developing and disseminating data pertaining to public, nonprofit, and hybrid organizations. Fellows participate in CORD's biennial research workshops, as well as develop and attend CORD-sponsored sessions and events at national and international conferences.
"CORD and its Fellows produce cutting-edge research on important and timely issues that affect public and nonprofit organizations, said Faulk. "I'm thrilled to join CORD scholars in developing new data projects and empirical research."
Nominated by a member of CORD's Board of Directors, Faulk's fellowship will be a three-year term, which is renewable. He will continue at SPA, teaching courses in nonprofit management, resource development, and policy advocacy and law.
"It's an excellent opportunity to expand the impact of SPA on nonprofit organizations and foundations in the context of public affairs," said Faulk. "The fellowship will provide opportunities to expand my work on emerging public policies and policy tools that engage the private sector in public management."
Faulk received the 2012 Gabriel G. Rudney Memorial Award for Outstanding Dissertation in Nonprofit and Voluntary Action by the Association for Research on Nonprofit Organizations and Voluntary Action. His research has been published in Public Administration Review, Public Management Review, International Public Management Journal, Public Performance & Management Review, Nonprofit and Voluntary Sector Quarterly, Nonprofit Management and Leadership, VOLUNTAS: International Journal of Voluntary and Nonprofit Organizations, Foundation Review, and Nonprofit Policy Forum.
Faulk earned a Ph.D. in public policy with a concentration in nonprofit and public management from the joint doctoral program in public policy at Georgia State University and the Georgia Institute of Technology.
His current research investigates how nonprofit organizations respond to neighborhood gentrification and resident displacement, the effects of competition in the nonprofit sector, new public policies and policy tools that affect nonprofit activity, and factors that influence foundation grant-making, organizational capacity, financial health, and performance.