Alumni
Marissa Malta, SPA/MPP '18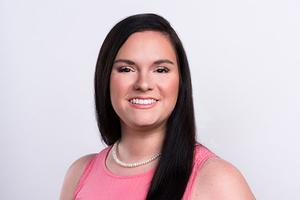 At the American Association for Retired Persons (AARP), alumna Marissa Malta, SPA/MPP '18, is focused on a range of issues from pensions to savings to Social Security. She's reaching out to thought leaders, tracking down the latest research, and trying to help the Washington, D.C.-based organization stay on the cutting edge of communication with its members on vital topics.
"Every day is different. You don't know what the next policy issue is going to be," says. "I hope to make a broad impact, changing perceptions about the 50-plus community."
Malta says the MPP degree was comprehensive and gave her the quantitative and writing skills, as well as a broad policy background to equip her to be successful in her job.
The St. Louis native came to SPA after earning a B.S. in economics and B.A. in Arabic at DePaul University in Chicago. She attended graduate school full-time and worked her first year as an intern at the Campaign for Tobacco-Free Kids focusing on international research.
 
In the summer of 2017, Malta participated in the SPA Key Executive European Union program in Brussels. "I was able to get a broader sense of how the EU works. We are so focused on the U.S. that we forget to look outward. Not all of our practices are the best," she says. "I got an understanding of how other nations approach pensions and it enhanced my own research skills."
At the end of her fellowship, she gained a full-time position at AARP in the Thought Leadership and International departments. Knowledge of data analysis and statistical programs from her SPA classes were useful in securing the position and excelling once there. She worked as a communications fellow where she had to strategically translate complex information to the public. "It was important to be able to research heavy, dense items and put them into a one-page document that was easy for someone to understand," says Malta. "In D.C., no one has time for two pages."