Achievements
SPA's Mark Maxin Receives Top Honors as Federal Lawyer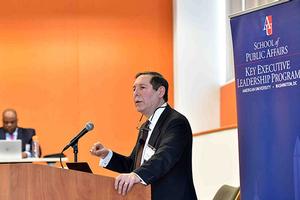 The American Bar Association has named SPA's Key Program Adjunct Professorial Lecturer Mark Maxin the "2018 Federal Labor and Employment Lawyer of the Year." The award for outstanding achievement in government service by a federal practitioner concerned with fairness and equal opportunity in the workplace was presented at a ceremony in San Francisco, California, on Nov. 9.
Maxin teaches classes on constitutional law and disability law to graduate students and federal employees in the Key Executive Leadership Program.
For 35 years, Maxin has worked for the federal government in employment law. He spent 21 years as an attorney with the U.S. Department of Labor and has been assistant general counsel for administration at the U.S. Nuclear Regulatory Commission since 2004.
Maxin says news of the award, which came as a shock, is an honor.
"To have a prestigious entity like the American Bar Association take a moment to say that I've done a good job and provided service to my community, it means that I've been doing something right and I've made a difference," Maxin says. "It's literally the highlight of my career."
It was especially meaningful, says Maxin, that the nomination included support from his agency, the U.S. Office of Personnel Management and SPA. "I deeply appreciate the support of the Key Executive staff," says Maxin. "They are an amazing group of people."
Maxin, who has taught at AU since 2013, says he enjoys communicating to students what the U.S. Constitution means, how to apply it, and how to lead in a manner that respects its principles.  
"It's exciting to teach aspiring leaders and to facilitate effective change in our current environment," Maxin says.
Key Executive Director Patrick Malone says Maxin is one of the highest rated teachers in the program.
"He's knowledgeable, very approachable, and has a good rapport with traditional students and our executives as well," says Malone.
In his teaching, Maxin sets the standard for innovative delivery and makes federalism exciting, says Malone, as he talks through real-world scenarios, wanders throughout the classroom, and calls on students by name and asks questions.
Malone added, "Winning this award is a huge professional accomplishment for Mark and a feather in the cap for the school and university to have him on our faculty. He could go anywhere he wants, but he loves the environment we offer here at American."