Research
Research Reveals States with Medical Marijuana Laws Have Lower Workplace Fatalities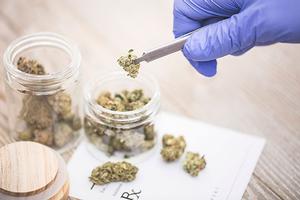 With 29 states and the District of Columbia legalizing the use of medical marijuana, concerns are being raised about the potential impact of the laws on workplace safety.  
AU School of Public Affairs professor Erdal Tekin recently completed a study that examined workplace fatalities in all 50 states and the District of Columbia between 1992 and 2015. He compared the changes in incidents over time among states with and without medical marijuana laws using a technique called difference-in-differences. Tekin, along with coauthors Mark Anderson and Daniel Rees, described the results in the article, "Medical marijuana laws and workforce fatalities in the United States." The article appeared online in the International Journal of Drug Policy in August and will be in print this fall.
Legalizing marijuana was associated with nearly a 20 percent reduction in the expected number of workplace fatalities among workers age 25 to 44 — and the connection in that age group grew stronger over time. Five years after coming into effect, MMLs were associated with a 33.7 percent reduction in the expected number of workplace fatalities.
"It's a pretty sizable effect," says Tekin. "We are confident there is a casual relationship between these laws and workplace fatalities. What is driving this effect is still an open question."
It could be that marijuana is a substitute for other risky behaviors, such as excessive alcohol use. Studies show that marijuana doesn't affect memory and motor skills like excessive drinking does. Tekin notes that previous studies show that the legalization of marijuana leads to less alcohol consumption.
In many states, it is unclear how companies can treat medical marijuana users who test positive for the drug and link the substance to workplace injuries or death.
"There are legal gaps. While these laws are progressing, and an increasing number of states are adopting these laws, the landscape doesn't seem to have caught up," Tekin says.
"There is a lot of debate about the relative benefit or harms of medical marijuana, but the discussion that takes place in the public discourse is not well informed," says Tekin. "People often have already made up their mind if they are for or against marijuana legalization. We hope to contribute to this debate with some evidence about one aspect of this."