Alumni
Meet Nicole Laible, 100th Graduate of SPA's MPAP Program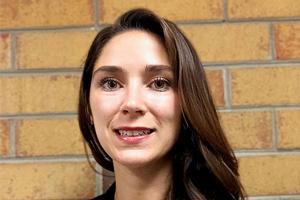 Nicole Laible completed her online Master of Public Administration and Policy degree with the AU School of Public Affairs (SPA) in August 2018. She is the 100th graduate of the program. The 28-year-old received her bachelor's degree in marine science and coastal environmental studies in 2012 from Stony Brook University and serves as the environmental project manager in the Division of Environmental Resources for the County of Rockland in Pomona, New York. She talked with SPA recently about her experience.
Why did you want to get your MPAP?
"I had been in the environmental field for a few years and was debating if I wanted to get a master's degree in the hard sciences or switch it up. I decided it would be better to study something that was more broad — especially if I wanted to change sectors in the future. Also, I was frustrated with marine, estuarine, and freshwater policies and how they were translated into application. I thought bridging the gap between science, policy, and application would be a really nice avenue."
What attracted you to the SPA online program?
"I researched several public administration and policy programs, but AU stood out because of its location in Washington, the faculty, and the resources available to students. I also have to attend a lot of evening meetings for my job. Other schools required you to be online at a specific time. I liked that SPA had asynchronous courses. Last, in this time of globalization, better understanding the online platform was also a draw for me."
What were some of your favorite classes?
"In Intro to Public Policy and Public Administration, the professor was captivating, and she encouraged students to be optimistic. As we reviewed scenarios — 9/11, Superstorm Sandy, and Hurricane Katrina — we looked at the events through a different lens to see what did and didn't work at various levels of government. The Financial Management/Budgeting course was also great. I had no background in budgeting and was tasked in my job with having to evaluate the budget, so the course helped a great deal."
What did you learn that you think will be most valuable on the job?
"Project management and leadership skills. At work, I pilot a lot of new projects, and it's helpful to know how to conduct program evaluations. The Managing Human Capital Assets and Legal Issues courses also really empowered me as an employee and a supervisor to look at case studies and better understand civil service law. As I grow in my supervisory role, the skills learned from these courses allow me to improve work with my direct reports and external partners."
What advice would you offer someone considering the online MPAP?
"Don't forget to connect with fellow students. My cohort was great. I enjoyed interacting with and learning from the students who were not from my field and some who were international. Each student came into the program with diverse experiences and backgrounds. You can learn just as much or more from your fellow students as you can from the the course content and AU professors. Overall, the program was diverse and fast-paced, and I highly recommend it."
To learn more about the MPAP program, visit https://www.american.edu/spa/online-mpap/index.cfm.