On Campus
AU Mock Trial Team Welcomes Influx of Talent in 2018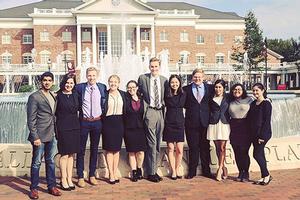 An influx of new talent and early tournament success has members of the American University Mock Trial team optimistic about the season ahead.
This fall, 130 students tried out for AU Mock Trial, and 16 were accepted, bringing membership of the AU School of Public Affairs (SPA)-sponsored team to more than 40.
"This is an unusually large group of new students on the team. There are a lot of enthusiastic freshmen as well as veterans," says Kevin Boyle, an SPA adjunct professor who began coaching the team in September.
Groups of 10 students travel to weekend tournaments throughout the region during the fall semester, giving everyone on the team a chance to compete. In early October, Boyle took a mix of newcomers and upperclassmen to a tournament at Columbia University, one of the most competitive events of the year. The AU team beat Harvard and New York University with one team member winning the award for top attorney and another for top witness. At a recent scrimmage at Elon University with another group of students, two AU students earned awards as top attorneys in the 20-team competition.
More than winning, Boyle wants students to learn from the experience.
"I want the students from September to May to know the law better, to become better with public speaking, be more self-confident, and make some friends," says Boyle, a retired colonel in the U.S. Army's Judge Advocate General's Corps and chief instructor for all Army prosecutors at the JAG's Legal Center and School in Charlottesville, Va.
The season will culminate in the spring with a national tournament in Philadelphia. In the past five years the AU Mock Trial team has finished 11th, 4th, and 3rd at Nationals.
At the tournaments, students role play being attorneys and witnesses for both sides of a case. The activity requires a combination of persuasive skills, the ability to think on your feet, and a bit of theatrical flair. While many students are in SPA, the team comprises students from various majors who meet twice a week for practice.
Julianne Kelleher, BA/SPA '21, says participating in the mock trial has reinforced what's she's learning in political science about the power of communication.
"What you are saying and your message matters a lot, but how you say it matters almost as much," says Kelleher. "Your body language, your inflection, and getting coached on how to say things that land with an audience is really helpful."