Achievements
Mock Trial Teams Advance to Opening Round of National Championships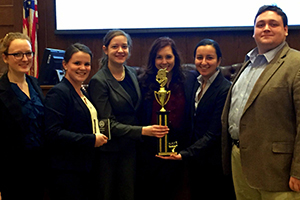 Two of AU's Mock Trial teams are on their way to the opening round of the Mock Trial National Championships following a successful set of performances at the regional tournaments.
Team A placed first at the Richmond Regional tournament, while Team B finished in 8th place at the Pittsburgh Regional tournament. Each team earned a spot in the American Mock Trial Association's (AMTA) Opening Round Championship Series (ORCS), which will be held throughout March in eight different host cities around the country, including Washington, DC. In addition to the Team A and Team B victories, three members of American University's Mock Trial teams earned distinct recognition throughout the regional tournaments. Team A's Jenna Forster took home an outstanding attorney award, while Team C's Jake Kern and Sam Murphy won an outstanding attorney and outstanding witness award, respectively.
Team A's members are Forster, Melisa Azak, Iain Phillips, Virginia Lyon, and Bobby McCabe, who are led by captains Kristen Pulkstenis and Jordyn Giannone, Team B's members are Jenny Newman, Eliana Peck, Ashwini Velchamy, Areta Jez, Nick Haley, and Jon Kaufmann, and are led by captains Ashley Dimuzio and Jes Cianci.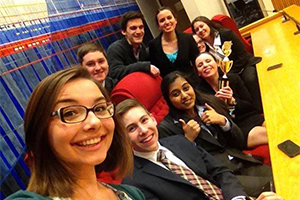 The top six teams in each ORCS tournament will move on to the AMTA's National Championship Tournament, to be held in Cincinnati, Ohio, from April 17-19, 2015.