Achievements
Winning MPA capstone poster highlights Roe V. Wade policy history and challenges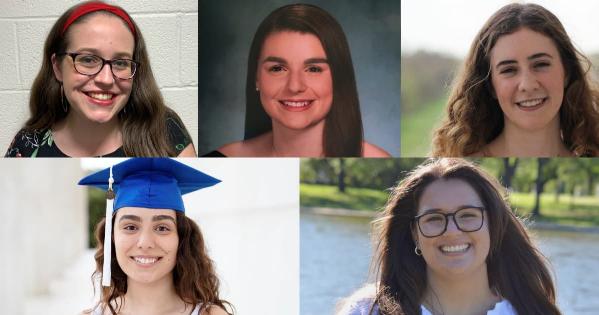 SPA students Cassandra Praino, Olivia Higgins, Rionach McEwen, Meghan Mertyris, and Anna Keilly have won this year's Best MPA Capstone Poster Award, with a research project entitled "The Floor, Not the Ceiling: Roe v. Wade and Public Policy." The project, which identifies inequities related to abortion access and financial and managerial implications for public and nonprofit organizations responding to policy changes, was in the editing stage when news came of plans to overturn the 1973 decision.
"This research was intended to show new and experienced public managers and advocates how to support abortion access across the U.S. and what to look [out for] going forward," said Keilly.
Praino, Higgins, McEwen, Mertyris, and Keilly worked together to choose a topic, conduct extensive research, interview stakeholders, develop a research paper with recommendations, and design the poster. The project's title reflects a repeated theme of the team's interviews: advocates argued that the rights granted by Roe should be considered a floor for access, or a minimum, rather than an upper limit.
"[This team] chose an extremely salient and prescient policy issue to examine," said the award committee statement. "The poster provides a comprehensive overview of relevant court cases, . . . various theoretical frameworks that can be used to examine the issue, and recommendations for many stakeholders, including officials and advocates at different levels of government."
The contest, established in 2018, represents the culmination of the MPA capstone class, which gives students a chance to do multi-method, original research, make career contacts, and apply what they've learned in the classroom. MPA Program Director Jocelyn Johnston explained that students are encouraged to choose any issue that they might confront in their career, but often land on issues of equity and access, such as abortion rights. 
"Given the current restrictive policies being passed across the states, as well as the bleak case in the Supreme Court, access to abortion has never been a more important issue," said Praino. "We wanted to examine each of these events and the actions by pro-choice activists to see how everyday women seeking abortion services would be affected. Sadly, the reality was very disappointing."
Keilly agreed, with both the critical nature of the issue and the sense of growing dismay over abortion rights.
"We have always known abortion to be an incredibly complex and highly debated topic, and yet almost 70% of Americans support a woman's right to an abortion," said Keilly. "As we were editing our final paper, we saw what our future holds: Roe and every other [avenue for care] is going to be taken away or restricted further. We are going to have to start again in this new era."
The student winners appreciated this chance to incorporate lessons from MPA coursework into real-world professional efforts. Keilly also expressed gratitude to SPA faculty for illustrating the importance of advocacy and providing the tools to conduct research.
"Many professors in the Women in Politics Institute taught me the importance of advocating for and ensuring representation of all women," she said. "Professor Johnston was also incredibly supportive throughout the process and offered great feedback and guidance."
The runner-up team, Leena Khurana, Melinda Knebel, Edith Lui, Antonio Muron, and Olivia Stafford, presented a project titled, "There's No Place Like Home: An Analysis of DC Affordable Housing," which examined gentrification and displacement in the nation's capital.
"You may notice that both poster finalists address equity issues," said Johnston. "Equity is one of the key public service values we emphasize in both our MPA and MPP programs."