Achievements
SPA's Nancy Kingsbury Honored for Lifetime of Public Service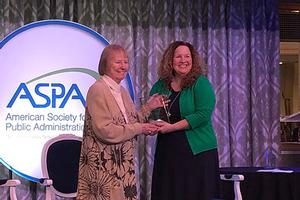 Nancy Kingsbury, an adjunct professor in the AU School of Public Affairs (SPA) Key Executive Leadership Programs and administrator with the U.S. Government Accountability Office, has been honored with the Elmer Staats Lifetime Achievement Award for Distinguished Service.
The American Association for Public Administration (ASPA) gives the honor to a public administrator who has made outstanding contributions to organizations on a sustained basis and made a significant impact that has benefited the general public.
Kingsbury is the managing director for applied research and methods at the GAO, a position she has held since 2002. She is responsible for managing advanced analytic staff, including economists, computer engineers, statisticians, social science analysts, program evaluation experts, and other scientific specialists. Prior to this appointment, Kingsbury was an assistant comptroller general working on human capital management and government business operations, tax policy and administration, justice and immigration issues, and financial institutions and markets.
Distinguished Practitioner in Residence Robert Tobias, who helped establish the Key Executive Leadership Programs, hired Kingsbury to teach the first certificate program for federal employees more than 25 years ago. He wanted someone who had not only the content knowledge of program evaluation but also the know-how to help high-level managers be intelligent recipients of evaluations.
"Nancy has seen it all and done it all," said Tobias, AU director of business development. "Students love her. They appreciate her experience, care, and attention. Her freshness and willingness to engage has made her a real asset to AU."
At a time when federal employees have been vilified, Tobias said Kingsbury has remained dedicated to public service and making governance better. In addition to the GAO, she has worked for the Peace Corps and the Office of Personnel Management.
"I've had the pleasure of working with her since 2000. She has a breadth of knowledge in so many technical areas at GAO," said Alice Feldesman, GAO assistant director of applied research and methods. "It's really impressive that she can so easily talk to engineers, economists, data analysts, and so many more."
 
"She commands such respect in the classroom, at GAO, and at academic conferences," said Patrick Malone, director of the Key Executive Leadership Programs. "She carries a tremendous amount of intellectual weight and has such incredible knowledge of the subject matter."
At AU, Kingsbury is a committed faculty member who helps develop others and is known beyond the classroom for mentoring students.
"I feel very inspired by her — she's a great leader," said GAO's Ned Malone, who is currently an SPA candidate. "She is a strong decision-maker with the public interest in mind. It's nice to have a leader who connects what we do at GAO day in and day out to the bigger picture. Her history working in public service is a good example to follow."