Environment
Nuclear Regulatory Commissioner Speaks at SPA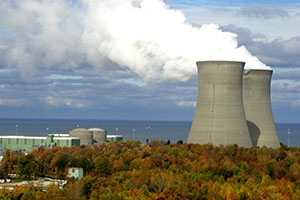 On Feb. 14, American University's School of Public Affairs and its Center for Environmental Policy welcomed U.S. Nuclear Regulatory Commissioner Stephen Burns to campus talk about the changing landscape of the nuclear industry.
"Some of the most important questions we face deal with energy sources, energy use and the challenges those sources have for public health, conservation, and preservation of the environment," said SPA Dean Barbara Romzek.
Addressing AU students and faculty, Burns discussed the 99 U.S. nuclear power plants that his agency oversees, which produce about 20 percent of the nation's electricity. The fleet of plants is aging, with the most built in the 1970s and 1980s. Four more units are currently under construction in the U.S. - two in South Carolina and two in Georgia on existing plant sites. Globally, there are 449 reactors with 60 in some phase of construction.
"Overall, the industry has a good operating record," said Burns. "Plants have learned to operate more effectively and have developed a stronger safety culture over time. There has been more sharing of information and systematic collection of experience when problems occur at one plant to alert others to potential issues."
Regulations have been shaped by lessons learned from historic events including the 1979 accident at Three Mile Island in Pennsylvania, the Chernobyl nuclear accident in the Ukraine in 1986, the 9/11 terrorist attacks in the U.S., and the 2011 Fukushima plant cleanup in Japan after the earthquake and tsunami.
Burns also touched on the challenge of nuclear waste disposal and fielded ranging questions from the audience about the future of nuclear power growth around the world.
"I've long been interested issues related to nuclear proliferation," said Kristen Stevens, SPA/MPA '18 "I came to this with a slightly different lens, but I learned about historical trends that shaped the regularly commission, as well as risks posed by nuclear plants."
"There certainly are environmental issues with it but when compared to something like coal, it may be smart – if we can work out the safety and waste issues," said Daniel J. Fiorino, director of SPA's Center for Environmental Policy. "The bigger challenge for the industry is the economics because it is a very high capital cost industry."
The U.S. Nuclear Regulatory Commission was established by Congress in 1974 as an independent regulatory agency to ensure the safe civilian use of radioactive materials and protect public health. The commission licenses, inspects, and enforces regulations for commercial nuclear power plants. Burns, an attorney, has long served as general counsel to the NRC and has been a commissioner since 2014. He was chairman from January 2015 until Jan. 23, 2017.