Research
Paper Finds Nursing Home Staff Skilled in Diversity Provide Better Care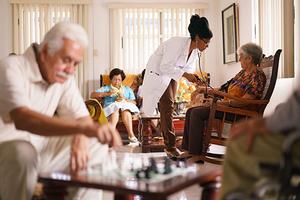 Managers who consider diversity and hire employees skilled in caring for diverse clientele have better facilities with fewer regulatory violations, according to a paper to be published in the Public Administration Review. Four SPA authors collaborated on the article: Anna Amirkhanyan, Associate Professor; Ken Meier, Distinguished Professor; Steve Holt, SPA/PhD '17, Assistant Professor at Albany-SUNY; and Austin McCrea, an incoming SPA doctoral Student.
While demographic diversity has long been of concern to researchers and practitioners in public management, studies exploring managerial strategies to respond to the needs of diverse client populations are scarce. Rather than looking at organizations and managerial strategies aiming at diverse employee groups, the SPA researchers looked at client diversity and examined the impact of managers' actions in cases when managers adjust their hiring practices to the needs of clients they serve.
When selecting the policy context for this study, nursing home care was a good choice because staff closely interacts with residents to provide personal care and their ability to understand their clients' needs and communicate effectively is important. Nursing homes are a setting where clients' cultural background really matters," said Amirkhanyan.
This policy area also has an abundance of data sets from federal sources to measure nursing home performance, client demographics, and other variable necessary to conduct the analysis. These archival data sets have been merged with a recent survey of nursing home administrators spearheaded by Professor Meier and his team.
The results show that an increase in diversity management efforts is associated with a lower number of regulatory violations. Importantly, in nursing homes with higher levels of racial heterogeneity, diversity management efforts are associated with fewer regulatory violations. The authors recommend that administrators prioritize diversity efforts when faced with higher levels of regulatory violations in performance reviews.
The findings suggest that the nursing homes serving more diverse clientele may be facing higher levels of complexity (including the extent of and the variation in healthcare or socio-emotional needs). But hiring staff trained in dealing with diverse clients, can help mitigate some of the challenges of serving diverse clientele and reduce some of the consequences of diversity for organizational performance.
As society becomes increasingly multicultural, Amirkhanyan said, practitioners should be aware of strategies to better serve diverse clientele, such as hiring multilingual staff and staff skilled in serving diverse populations.
"Minority groups that had traditionally relied on informal family care in the past are increasingly relying on formal nursing home care," said Amirkhanyan. "Management is a complex task, but attention to diversity is one more thing managers should keep their eyes on." Although focused on nursing homes, the findings of the study are generalizable to other health and human service programs, said Amirkhanyan.
This is the third paper based on Professor Meier's Nursing Home Administrators' management survey, conducted in 2013. The other two articles already appeared in Public Administration Review and The Journal of Public Administration Research and Theory.
Faculty and Student-Researchers Work Side-by-Side
This project showcases how collaboration is enhancing research at SPA.
Collaboration is an increasingly attractive approach to research, as it melds various scholars' perspectives and expedites the project. Still, the recent SPA joint effort is somewhat unusual as Meier estimates that less than 10 percent of academic articles today have as many as four authors.
"The combination gave us a much better paper than we could have done separately. It enabled us to probe more deeply," said Meier.
Amirkhanyan said everyone worked hard on the team, and there was a cooperative spirit during the two-year process, which included some long-distance yet regular communication between the co-authors. "Everybody contributed something to the study. This was an equal collaboration where everyone had a voice," said Amirkhanyan.