Research
New Study Finds that Nursing Homes Run Better with Experienced Managers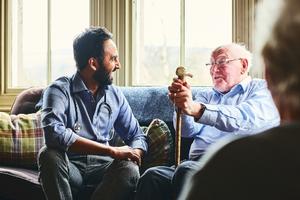 New research by American University School of Public Affairs (SPA) faculty shows the value of job tenure when it comes to managerial effectiveness in nursing home operation.
SPA Associate Professor Anna Amirkhanyan and Distinguished Scholar-in-Residence Ken Meier partnered with two recent SPA PhD graduates to produce a new article, "Learning on the Job: The Impact of Job Tenure and Management Strategies on Nursing Home Performance," recently published in Administration & Society. 
Their co-authors are Beth Hawks, SPA/PhD '18, now an assistant professor at Uniformed Services University of the Health Sciences in Bethesda, Maryland, and Seung-Ho An, an assistant professor at the University of Arizona.
The study investigated the effects of job tenure on organizational performance, with a specific focus on how administrators' experience enabled managers to use three key managerial strategies: innovative management, participatory management, and external management. The researchers used performance data from the Centers for Medicare and Medicaid Services and a recent survey of nursing home administrators in their analysis of public, for-profit, and nonprofit U.S. nursing homes that receive federal government funds.
The topic of managerial longevity has received considerable attention in public administration, and high levels of administrative turnover in the nursing home industry made this an ideal case for assessing the impact of managerial experience, according to the authors.
The results show that with more time on the job, managers can leverage more from their managerial strategies. More specifically, more experienced managers have more success because they are better able to manage pressures from the external environments and delegate power to their staff internally.
"Managers using those same strategies who have less experience are often less effective at improving nursing homes regulatory compliance compared to someone who has been on the job for a while, has developed relationships within the organization, hired some of the staff, and has built an external network," Amirkhanyan said.
Meier added that he hopes the nursing home industry will see in their results that investing in quality managers who stay long term is important. "You really can't bring in somebody off the streets and have them run a nursing home. It takes a while to learn the problems and learn the systems," he said. "The degree to which this contributes to greater professionalization and a career path people can follow for a lifetime is a good thing."