Research
New Book Examines Landscape of Competing Facts in American Politics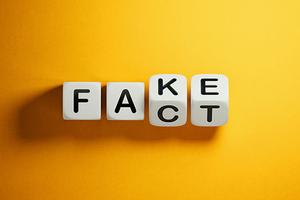 AU School of Public Affairs Professor David Barker's new book, One Nation, Two Realities: Dueling Facts in American Democracy (Oxford University Press, April 2019), presents new survey research to explain what is fueling misinformation on both sides of the political spectrum and the consequences it has for society.
Barker, director of SPA's Center for Congressional and Presidential Studies, co-authored the book with his former doctoral student, Morgan Marietta, who now serves as associate professor of political science at UMASS-Lowell.
"The problem is bigger than 'misinformation,'" Barker said. "We are heading toward a post-truth political environment in which the objective truth is essentially irrelevant because everyone has their own version of it."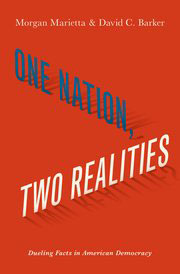 Barker and Marietta conducted nationally representative surveys between 2013 and 2017 that asked people what they thought was true or false about a dozen prominent "factual disputes," including climate change, the origins of sexuality, vaccines, the economic consequences of immigration, minimum wage, and the national debt. The researchers examined what factors account for people's perceptions of reality. They also conducted randomized experiments to observe how people responded to others who made controversial fact claims and their reaction when fact-checkers tried to tell them what is true.
Barker and Marietta discovered the media is not the primary culprit. Instead, other factors influence people's perceptions of reality.
"People do not need Fox News or party leaders to help them project their values onto their beliefs. They do it on their own," said Barker. "The real reason we have gotten where we are is the Culture War. As politics has generally become more about differences in religion and social identities, the tendency to believe what we want to believe has grown."
"The polarization of viewpoints has consequences that extend beyond politics," said Barker.
When people encounter someone who views facts differently than they do, they tend to judge that person even more severely than when that person has opinions that are different from their own. Research has found this tendency to be just as pronounced among conservatives as liberals. Barker said, "This polarizing behavior damages work relationships and the social fabric of society."
"There is no solution to this problem that we have been able to identify. Fact checking often backfires, and educational attainment only makes things worse — those who are most confidently misinformed tend to be the most educated," Barker said. "I hope this research convinces reformers to look elsewhere for answers. The ideas in which people are investing currently — media reform, educational reform — are a waste of energy and resources."