Government & Politics
Conference Highlights Need to Rethink Policy and Law to Address the Opioid Crisis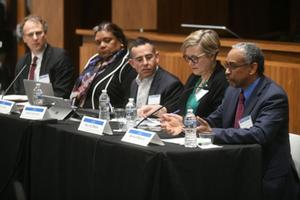 Leading experts from public policy, medicine, and law enforcement were among those who gathered on Feb. 22 to discuss new ways to address the opioid crisis at a conference hosted by the AU School of Public Affairs and the Washington College of Law.
"Beyond the statistics and underlying the policies, this is an issue that is close to home and of personal interest for so many of us," said SPA Dean Vicky Wilkins. "I have a family friend who has struggled for years with addiction to opioids and I have seen how it destroys lives. This conference is a chance to better understand the policies and legal issues that make this epidemic such a complex concern."
More than 350,000 people in the United States died from opioid-related overdoses between 1999 and 2016. The 42,000 overdoses in 2016 alone reflect a fivefold increase since 1999, according to the Centers for Disease Control and Prevention.
Whether the situation is defined as a public health or law enforcement issue is at the heart of the debate. At the conference, panelists discussed the range of approaches from prevention to treatment to punishment in the criminal justice system. Many of the services and potential solutions are interrelated. Experts underscored the need for practitioners to work together to combat the problem, rather than in silos.
"The same social determinants of health that determine opioid abuse are affecting other problems that we have in this country," said SPA Associate Professor Taryn Morrissey, who moderated a panel on community prevention. "Addressing social determinants of health can stop the intergenerational transmission and promote health in many other respects."
During the health reform repeal debate in Congress in 2017, some politicians both talked of gutting Medicaid while wanting more money for their states to combat opioid addiction. Morrissey and others pointed to the policy disconnect with evidence that Medicaid works in both treatment and prevention of drug abuse.
SPA Professor Erdal Tekin moderated a discussion on harm reduction for opioid users and the need to get evidence-based practices adopted by policymakers.
"We have effective interventions that save lives that are not being implemented," said Emma Beth McGinty, a policy researcher from the Johns Hopkins Bloomberg School of Public Health who conducted surveys on what public messaging works to garner support for syringe programs. Most Americans polled said they would not support legislation to fund safe consumption sites, but they were in favor of opioid overdose prevention sites. Understanding how to craft communication on the issue will be key moving forward, said McGinty.
Tekin said he left the conference inspired by mix of solutions offered: "The evidence is there. It's just a matter of bringing that evidence into policy. How to connect these two — that's the ultimate challenge."