Research
New SPA Grad and Professor Advances Research, Policy, and Perceptions on Violence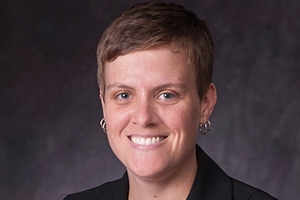 A former social worker and nonprofit director, Jane Palmer, SPA/PhD '13, has been dedicated to ending violence for two decades. Palmer "got the spark" to work on this issue after seeing the painful wake of violence firsthand, but it was a high school teacher that gave her the outlet to act on it. The budding student activist joined the teacher-sponsored theater troupe that used students' personal stories to educate about racism, prejudice, violence, and homophobia. It became a lifeline for Palmer, who attended high school in a conservative town.
Twenty years later, Palmer is lighting that spark in students here at AU. This spring, she taught a Domestic Violence class covering law and public policy relative to intimate partner violence and child abuse. "It was a great class, with students from a range of disciplines," said Palmer. "A few students told me that I inspired them to want to work in this field, although they just took the class to fill an elective requirement. That to me is really exciting."
Joining SPA

Palmer joins AU's Department of Public Administration and Public Policy full-time as a Professorial Lecturer this fall, after having completed her PhD from SPA's Department of Justice, Law & Society in May. Her work and career path were recently featured in the Washington Post Express.
Before coming at AU, Palmer served in numerous roles working to prevent or reduce the impact of sexual and physical abuse, including educator, advocate, counselor, trainer, consultant, social worker and executive director, mainly in the nonprofit worlds of Chicago and St. Louis. "I always knew I wanted to get a PhD … As a social worker, I felt like I didn't know enough about the research or if the approach I was taking had an empirical basis," said Palmer. "I want to help build bridges between practice, policy, and research."
SPA was such a perfect fit that it was the only PhD program she applied to. "I was attracted to the program's interdisciplinary focus, and the freedom and the opportunity to go deep into the issues I am passionate about," she said.
Bystanders' roles in sexual assault

Palmer's dissertation looked at the complex role of bystanders in intervening in sexual assault and dating violence on college campuses. "More and more we're realizing that bystander intervention isn't just about what happens during an incident; there are opportunities to intervene before and after," said Palmer. She found a number of factors, such as whether or not alcohol was involved and if the perpetrator was intimately involved with the victim, affected whether or not a bystander would intervene. 
Some of the responses were eye-opening for Palmer. For example, a female student reported that she felt like she needed to wear pants instead of a skirt to a club to prevent sexual harassment. "It puts the responsibility for behavior change on the victim, rather than the perpetrator, to prevent violence," said Palmer, "and for bystanders, victim blaming becomes a convenient excuse for inaction."
Award-winning research

Palmer's groundbreaking research and academic excellence earned numerous awards at AU, including the Neil and Ann Kerwin Doctoral Fellowship Award, the AU Dissertation Fellowship Award, and the SPA Graduate Honor Award.
She also received a Graduate Research Assistantship at the U.S. Department of Justice's National Institute of Justice, where she worked on Congressionally-mandated research on violence against Native American women living in tribal communities. At the DOJ, Palmer was part of a team that designed a pilot study on victimization in Indian Country and in Alaska Native villages, analyzed FBI data on violent crimes in Indian Country with female victims, and interviewed criminal and tribal justice personnel and victim advocates about violence against American Indian and Alaska Native women.
Today, Palmer continues to pursue the role of bystanders in response to violence with colleagues at the Center on Violence Against Women and Children at the Rutgers University School of Social Work. Her current project involves analyzing data from a longitudinal evaluation of a campus-based bystander intervention and sexual violence prevention program.
"Violence is experienced by far too many people, including people close to the victims, who undergo a vicarious trauma," says Palmer. "Everyone deserves to be free of the fear and experience of violence."