Achievements
DPAP Team Advances to Finals in Policy Competition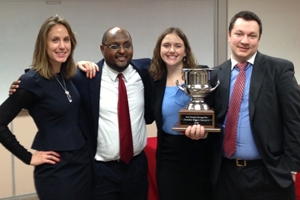 A team of students from the Department of Public Administration & Policy has won first place in a regional competition to develop innovative solutions to the most important policy problems facing the country.
The students, all master's candidates in public policy, beat out competitors from Rutgers and the University of Maryland with their presentation on improving employment and earnings outcomes for younger workers at the Policy Solutions Challenge USA in New Jersey. The team advances to the finals at the School of Public Affairs at American University on March 21 and 22.
The students, left to right, are Tracey Livingston, Haile Dagne, Kency Nittler and Kellen Grode, and are directed by Professorial Lecturer Daniel Puskin.
The official results can be viewed at: http://policychallenge-usa.org/northeast-region-2014.html.