Alumni
Political Communication Alumni Speak the Language of Politics and Government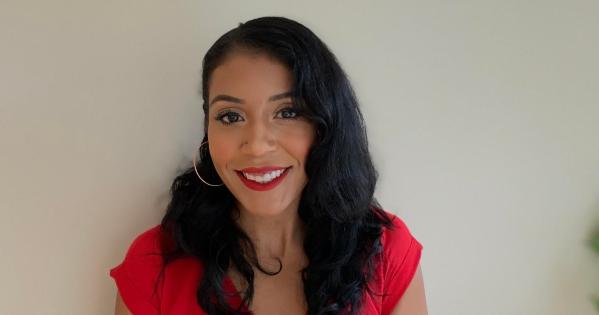 The Master of Arts in Political Communication, a joint degree program between the School of Public Affairs (SPA) and the School of Communication (SOC), looks to provide future practitioners with a grounding in political science, strategic communication, research, and media. The program, which students can enter through either school, has yielded scores of alumni, communications experts who work at all levels of government and media.
Two such alumni have risen quickly through the ranks and established themselves as promising young leaders in the field. Isabel Aldunate (SOC/SPA, MA, '17) serves as Deputy Communications Director at The White House Office of Management and Budget (OMB), and Michael Holloman (SOC/SPA, MA, '18) is the Communications Director for Stacey Abrams' high-profile campaign for governor of Georgia. Their stories, shared below, demonstrate the value of this distinctive, multi-disciplinary credential.
Isabel Aldunate: The White House Office of Management and Budget
Aldunate, a former NCAA Division I tennis player, entered politics from the advocacy world.
"Since I was a little girl, I have always loved nature and the environment," Aldunate shared. "My first jobs right out of college were at the Maryland Clean Energy Center, the American Council on Renewable Energy, and Climate Action Campaign. Through those jobs, I fell in love with political communications for the strategic aspect and realized it was a venue to enact real change."
This epiphany produced a fascination with the legislative process, which led Aldunate to pursue a graduate degree at American University.
"Mentors and professors told me that the best way to learn about Congress, how laws are made, and how things change, is by working from within," she said. "I knew I had to understand the legislative branch and the executive branch to be a successful communicator, which led me to apply for a press internship with Senator [and then-Senate Minority Leader Chuck] Schumer's office."
When the internship ended, Aldunate accepted a paid position in Schumer's office, and was eventually named his Deputy National Press Secretary. In 2018, an AU classmate connected her with her first campaign job, supporting Andrew Gillum's bid for governor of Florida. Aldunate then spent time on President Biden's campaign as Deputy Director of Strategic Communications and Hispanic Media Press Secretary); when he won the presidency in 2020, she joined his administration, first as Surrogate Communications Director for his inauguration, and then in her current role.
As Deputy Communications Director for OMB, Aldunate handles both press relations and strategic communications for the office's management side, including the federal employee vaccine mandate, federal tech policy, cybersecurity, the Made in America office, and more. This diverse portfolio can mean wide variation in her day-to-day workflow.
"Some of my days, when we're deep in it on a certain topic, I may just be handling press inquiries," she said. "[Other days] could involve planning strategic rollouts or running point on those rollouts and making sure those go smoothly. Other days I'm staffing principals for interviews and events."
Aldunate credits her experience at AU for her ability to navigate these tasks so gracefully.
"You don't only learn communication theory or policy in a hypothetical situation; I really appreciated that a lot of the classes were focused on application of those principles," said Aldunate. "You learn how to write a press release. You learn how to put together detailed tick tocks for communications rollouts. I took a class on speechwriting and campaign management. That foundational knowledge really helps when you're doing it in the real world, especially since your professors are oftentimes folks that are deep in this industry."
Aldunate particularly valued courses on political writing with Instructor Carrie Giddins Pergram and political communication with Executive in Residence Molly O'Rourke, who often featured guest speakers from government and media. She credits her public policy class with James Thurber for the ease with which she came to navigate the political sphere.
"When you're working in Congress, no one takes the time to pull you aside and teach you the nitty gritty," she said. "But I realized, after taking that class and working on the Hill for three years, that topics and issues are cyclical, and you start to see patterns emerge."
Finally, Aldunate, who shares her home with a beagle-chihuahua mix named Ruth Bader Ginsburg, hopes that her story can help current and prospective students set their own path, and offered critical advice on making the most of the AU experience.
"Try [opportunities in several different] areas and see which one you're passionate about," she said. "Develop a well-rounded view of how the machinery in D.C. works, how advocacy groups interact with the Hill, which interacts with the executive branch, and how the various communications shops work with each other. People who have had a wide range of experience are much more professionally valuable than someone specialized in one field."
"Secondly, the friends that you meet in grad school are going to be your lifelong friends, but they're also going to be your networking contacts. Those organic relationships will result in job opportunities. Keep in touch with your classmates. Lean on them."
Michael Holloman: Abrams for Governor Campaign
Holloman, a Virginia native, first tuned in to national politics during the 2008 election of Barack Obama.
"When I realized that communications and politics go hand in hand, I thought, 'Wow, I want to be a part of making people feel the way Barack Obama made me feel when I was 14 years old,'" he said.
As an undergraduate, Holloman spent three months as an intern with the Black Congressional Caucus Foundation, and fell in love with D.C. He knew that the city offered multiple options for graduate students interested in politics and communications, but only one school offered the programming he was looking for.
"I just loved the [AU] curriculum," he explained. "I'm very methodical, so I read through the curriculum and made sure it was what I wanted to learn. Also, when I visited for the open house, it just felt welcoming: it wasn't stuffy. I enjoyed that, so I was very happy with my decision."
Holloman participated in the Campaign Management Institute with SPA Professor Candice Nelson and took memorable and important SOC classes with Executive in Residence Molly O'Rourke and Professor Leonard Steinhorn.
"I love Molly O'Rourke," Hollomon shared. "I kind of want to be like her one day, in terms of both teaching and having your foot in the real world of politics. I love that juxtaposition, both the theory of it and the application. Lenny Steinhorn is just amazing. I could listen to him speak for hours. He was really helpful in terms of my capstone, and I'm just a big fan."
While working towards his AU degree, Holloman completed internships in the House of Representatives and took a position as Press Advisor at the think tank Third Way. Then came an invitation to apply for the position of Deputy Press Secretary on the 2018 Abrams for Governor campaign; like Aldunate, Holloman learned of the opportunity through an AU contact.
When the campaign ended, and with his MA in hand, Holloman accepted a job with Fair Fight Action, a national voting rights organization founded by Abrams. He served as Deputy Communications Director for Fair Fight and now serves as Abrams' Communication Director for her 2022 bid for governor.
"On the campaign trail, no day is the same," said Holloman. "We just got off the road for our One Georgia Tour, so right now I'm managing staff: doing what I need to do as a communications director, but also ensuring that my staff have what they need, that they're supported, and that they can move forward with [our] objectives."
Holloman's current campaign strategy involves "meeting voters where they are," or identifying and promoting voter engagement opportunities at an authentic and community level, which means research into voter preferences and behaviors.
"I think that's really important for Democrats, particularly this year," he said. "I'm always thinking about how we can we reach young voters and voters of color in new and interesting ways. So, I'm always investigating what they read, what they watch, . . . and what they respond to."
As part of this research, he relies on his personal circle to brainstorm and evaluate campaign strategies, particularly his mother, his sister, and his friends.
"My family and my friends are my barometers," said Holloman. "If they don't know that something is happening, I assume that others outside of politics don't either. Sometimes, with politics, we get caught up in these bubbles: we think, 'This is a fire!' But it turns out that [target demographics] do not care about what happened or haven't even heard about it."
Holloman, like Aldunate, advises political communications student to lean on their professional networks and be flexible when choosing a career path. He also shared the importance of building a diverse and culturally competent campaign team.
"Some aspects of my personality make me more valuable as a political communicator, but I also have blind spots. I don't know what certain constituencies read and watch: sometimes that's a very personal thing for a particular community. So, I would advise students to be intentional about how and when you invite other people into the space: you want people with some type of cultural competency, who know when things aren't authentic to a specific community."
For more information about the MA in Political Communications at American University, visit the website or email spainfo@american.edu.