On Campus
"The Pollsters" Talk About the Countdown to Election 2016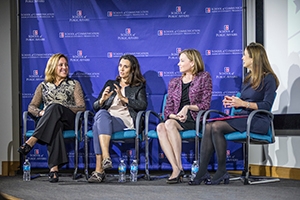 Kristen Soltis Anderson and Margie Omero started their November 1 just before 7 a.m. on MSNBC's Morning Joe and ended it at American University 12 hours later, giving their bipartisan take on the election.
The hosts of popular podcast, The Pollsters, came to AU for an event co-hosted by the School of Public Affairs and the School of Communication. Anderson, a Republican pollster and co-founder of Echelon Insights, joined Omero, a Democratic pollster and executive vice president of public affairs at PSB Research.
With help from School of Public Affairs Executive in Residence Betsy Fischer Martin and School of Communication Executive in Residence Molly O'Rourke, they answered questions about, polling, the upcoming election, and the millennial vote. One of the more critical questions for The Pollsters is about voter turnout.
"If younger voters do stay home in mass, that could be a problem for the Democrats," said Anderson, author of The Selfie Vote: Where Millennials Are Leading America (And How Republicans Can Keep Up).
Omera said getting young people to vote has long been a difficult because many don't have roots in their communities and don't hear the candidates talking about issues that matter to them. What's the secret to motivate young voters? "Show what's in it for them," said Omera.
To those interested in a career in polling, the guests said it's important to know the numbers, but also be able to reach out and listen.
"You need to be open minded about voters," said Omera. "If you find yourself not meeting folks from different walks of life. That will affect how open you are to hearing what's on voters' minds."
"The best pollsters do not think of it as entirely math or entirely verbal," said Anderson. "It's also about being able to craft a message that is compelling and talk to people in a focus group for 90 minutes. Psychology and rhetoric also matter."
SPA Dean Barbara Romzek said she liked how the speakers discussed their profession. "They brought tremendous expertise and insight to the complicated issue of polling," she said. "I particularly liked the advice to students that they need to be facile in the statistical data analysis as well as be able to read people."
Katie Putman, SOC/MA '17, said she liked the cordial, bipartisan conversation between the speakers and information about how to interpret polls. "It's nice to know you can take everything with a grain of salt and not let it sway your individual perceptions," she said.
Jonathan Gonzales, SPA/BA '18, a double major in political science and economics said, "It's great to be at AU in an election year because you get so many different viewpoints."
When asked about whether or not polls matter during an election, both pollsters agreed that it matters more for the policy issues, but most of the attention goes to "the horse race."
"Be a poll skeptic – No two polls are exactly alike," said Anderson. "Look at poll aggregators rather than letting one poll throw you off."