Achievements
SPA Professor Named Distinguished Expert in Social Insurance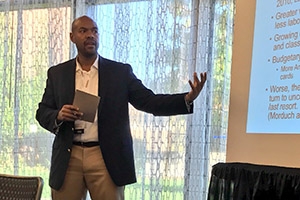 The National Academy of Social Insurance (NASI) has named School of Public Affairs Associate Professor Bradley Hardy as one of its distinguished social insurance experts, and member of its academy.
NASI taps academics and policy experts to be resources on programs ranging from social security to unemployment insurance to anti-poverty policies and the minimum wage. Those selected for membership have distinguished themselves by improving the quality of research, administration, or policymaking in these areas.
In his role, Hardy and others may be called upon by legislators, journalists, and others to speak on issues related to economic insecurity and the nation's safety net. Members are also asked to contribute to the academy's research, education, and leadership development initiatives by volunteering time on study panels, committees, at conferences, and participating in other Academy projects.
"I'm happy to be included in the academy and to be a part of a group of scholars, policy analysts and researchers who are concerned about social welfare and social insurance in the United States," said Hardy.
The National Academy of Social Insurance is a non-profit, nonpartisan organization made up of the nation's leading experts on social insurance. Its mission is to advance solutions to challenges facing the nation by increasing public understanding of how social insurance contributes to economic security.
Hardy is currently on sabbatical from the School of Public Affairs, spending this academic year at the Brookings Institution as an Okun-Model fellow in economic studies.