Achievements
SPA Professor Receives Prestigious Judicial Award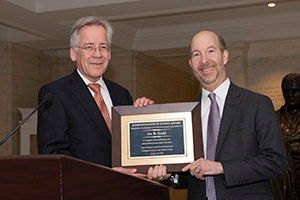 AU School of Public Affairs' Professor Jon Gould was recently awarded with the Administration of Justice Award from the U.S. Supreme Court Fellows Association for his contributions to justice reform. Gould was presented the award during a dinner in February with three Supreme Court Justices present.
"To have the policy practitioner world recognize the work that I have done is not only an honor, but it also gives me even greater enthusiasm and motivation as I come back to my academic work and research," said Gould.
Gould returned to SPA in January 2017 after more than two years on leave, first as director of the Law and Social Sciences Program at the National Science Foundation and most recently as a Senior Policy Advisor at the U.S. Department of Justice during the Obama Administration. The award acknowledged his work on criminal justice reform in that post, his service on the Ad Hoc Committee to Review the Criminal Justice Act Program, as well as his research on erroneous convictions and indigent defense as it pertains to the federal death penalty.