Research
Public Affairs and Policy Lab Gives Students Real-Time Research Experience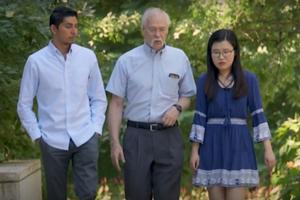 Gabrielle Dell, SPA/BA '22, is looking forward to working with AU School of Public Affairs Distinguished Scholar in Residence Ken Meier this summer researching articles, conducting interviews, and performing data analyses on a project examining gender differences in emergency room care. 
"Not many people get this experience so early in their college careers," says Dell, who is interested in public health and would like to work on Capitol Hill or go to law school. "This will give me a chance to see what it's actually like in the field and help me narrow down what I want to do.  It will get my resume going and, hopefully, achieve a better position in the future."
Dell is one of 10 students selected to be summer research assistants on projects with SPA faculty in the new Public Affairs and Policy Lab (PAPL) program. SPA Associate Dean Saul Newman proposed the idea to help retain quality students and raise the research profiles of undergraduates.
"I felt we needed to challenge students and give them opportunities to do research," Newman says. "It's a win-win to combine the interests of students together with faculty in need of help over the summer."
There were 32 students and 21 faculty members who applied for the 10 PAPL positions. Students are paid $3,000 and faculty $1,000 each. The projects will involve primary research, textual analysis, and statistical computer skills. 
"The hope is that the teams will establish long-term research relationships that may lead to publications," says Newman. "While high school is about knowledge absorption and transmission, at AU we invite students to come along on a knowledge-creation journey. So, when they graduate, they will have a skill set that is marketable and have a policy paper they have coauthored."
Before coming to AU, Meier worked with students at Texas A&M in a similar program. "It brings incredible academic and intellectual experience to undergraduates who are looking to be challenged — to provide them job skills or the ability to get into a top-quality graduate program," says Meier, who will oversee the health study with Dell and conduct research on the impact of female math teachers in India on girls' academic performance.
This summer, Austin Jang, SPA/BA '19, will be paired with Ryan Moore, assistant professor of government, to work on a project involving advanced data analysis and coding. Jang, who expects to graduate in December with a concentration in comparative politics, has had other campus research experience at SPA Peace and Violence Research Lab and is eager to study another area.
"I find political methodology interesting because solving one methodological problem can apply to so many different contexts — it's both useful and really fascinating," says Jang. "I'm considering going into academic work, a master's or PhD program, so this seems like great exposure."
Moore says he hopes the research collaboration will continue after the summer. "This is an opportunity to move far beyond reading someone else's research and analyzing to doing research on your own."