On Campus
Public Management Scholar to Join SPA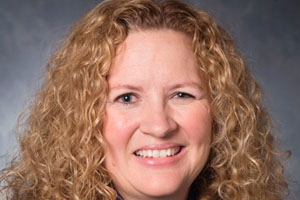 Vicky Wilkins, a nationally recognized scholar in the area of public management, will join the School of Public Affairs (SPA) at American University as associate dean for academic affairs on July 1.
"Professor Wilkins is an experienced administrator, accomplished teacher and nationally recognized scholar," said SPA Dean Barbara Romzek.
As an administrative leader at the University of Georgia, Wilkins has been an innovator in curriculum, student services and fundraising. She has served on the faculty there for 11 years, four of them as director of graduate studies. At SPA, she will be responsible for graduate education and all matters pertaining to the faculty.
Influential Article
A 2011 article by Vicky Wilkins and co-author Young-joo Lee of the University of Texas at Dallas is one of the 75 most influential articles in the history of the journal Public Administration Review. In "More Similarities or More Differences? Comparing Public and Nonprofit Managers' Job Motivations," they found that managers who value advancement opportunities, a pension and a retirement plan, as well as the ability to serve the public in their jobs, are more likely to accept a job in the public sector. Managers who value family friendly policies and increased responsibility are more likely to accept a position in the nonprofit sector. (http://onlinelibrary.wiley.com/doi/10.1111/
j.1540-6210.2010.02305.x/pdf)
Wilkins, an associate professor of public administration and policy at the University of Georgia's School of Public & International Affairs, has published extensively in several top-ranked journals, including the American Political Science Review and Journal of Public Administration Research & Theory. She is a member of the editorial board of three leading journals in public administration, and is highly accomplished in the classroom, having received six awards for outstanding teaching.
"I'm very interested in understanding how we manage employees within organizations," said Wilkins, who will be a professor of public administration and policy at SPA. "I'm interested in how social, racial and occupational identities can change the interaction between employees and clients of an organization."
At the University of Georgia, she was a recipient of the Kaufman Award for the best paper in public administration, given annually by the American Political Science Association. The paper she co-authored, "Lipstick and Logarithms: Gender, Identity Institutional Context, and Representative Bureaucracy," found that the presence of female teachers in Texas schools increased the academic achievement of female students.
In a recently published article in the Journal of Public Administration Research and Theory, "Going Beyond Reading, Writing, and Arithmetic: The Effects of Teacher Representation on Teen Pregnancy Rates," Wilkins found that teenage pregnancy rates declined for students in Athens, Ga., when the number of female teachers of color reached 17 percent of the faculty.
"We know that African American teachers are a positive influence, and allow for more candid conversation," she said. "They represent a shared community and cultural experience."
As director of the Master of Public Administration program, she replaced an outdated essay-based exam with one that was case-based, allowing students to highlight skills they had obtained in the program and to produce a policy memo.
"The quality of exams has significantly increased and the students have developed important real-world experience in evaluation and writing," she said.
Working with the Seoul Metropolitan Government, Wilkins led the development of a course that enables students to study Seoul's response to urban problems. The course ends with students and faculty spending a week in Seoul, getting an up-close view of the urban administration while also gaining a broader perspective on local government.
In addition, she developed a three-day socialization event each fall to welcome incoming students. Held the week before classes start in August, the event involves three days of programing, capped off by a day of service and interaction with local officials and leaders.
"One of my proudest achievements was to increase student connectedness to the master's in public administration program," said Wilkins. "I wanted students to strongly identify with our program and fondly remember their time in Athens."