On Campus
Rep. Jayapal Talks About Medicare-for-All with Abdul El-Sayed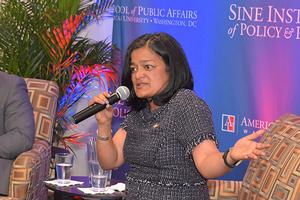 The American University Sine Institute of Policy & Politics recently hosted a conversation about healthcare between Rep. Pramila Jayapal (D-WA) and Sine Fellow Abdul El-Sayed, a doctor and former candidate for the governor of Michigan.
Earlier this year, Rep. Jayapal, the first Indian-American woman to serve in the U.S. House of Representatives, announced an ambitious Medicare-for-all plan. During the Sine Institute event, she discussed the history, policy, and politics of the plan, along with the specifics of the bill and how it differs from other approaches. Just prior to the event, she attended the first Congressional hearing for the plan.
"We have the worst health outcomes of any peer country in the world," said Rep. Jayapal. "A health care system plagued with a deep sickness that puts profits over people. And that has to end."
During the event, Jayapal and El-Sayed talked about how the Medicare for All Act of 2019 would entail a vast reworking of the American health care system. Medicare and Medicaid would phase out, while private employers would be prohibited from competing with the government-run plan that would cover all Americans.
"It's a real chance to transform the health care system, so everybody is in, and nobody is left out," said Rep. Jayapal, who serves as co-chair of the Progressive Caucus.
According to recent Kaiser Family Foundation polls, more than half of Americans say they have a favorable view of Medicare-for-all. But as calls for health reform grow louder, many on the right, in the center, and in the health care industry believe it could cause economic ruin for a sector that represents 18 percent of the U.S. economy.
During the event, El-Sayed shared that Medicare-for-all isn't just about the uninsured. The past five years have seen premiums double and deductibles increase 40 percent. Many health insurance plans have narrow insurance networks that cover only a limited number of providers and hospitals. These often add more costs in emergencies, especially when the closest hospital is outside the network.
"I'm a doctor by training and I remember my first rotation in medical school when one of the first patients I took care of was someone who landed in the hospital because they were rationing their pills," said Abdul El-Sayed. "This was not somebody who didn't have health care. They just didn't have adequate health care – they were underinsured."
The Medicare-for-all event marked the last of several spring events and seminars featuring each of the five Inaugural Sine Fellows. As an incubator for policy innovation, the institute will continue to convene the best minds in public, private, and nonprofit sectors, the arts, and journalism. The next cohort of fellows will lead discussions, study sessions, and campus-wide events in the spring of 2020.