On Campus
RFK in the Land of Apartheid: A Ripple of Hope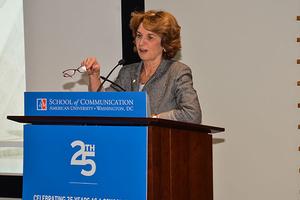 At the height of apartheid, U.S. Senator Robert Kennedy went to South Africa on a five-day visit where he met with college students, local leaders, and everyday citizens. The story of his journey was told in the film "RFK in the Land of Apartheid," screened recently by AU School of Public Affairs.
Introducing the documentary, Kathleen Kennedy Townsend (pictured) spoke of her father's courage in making the trip in 1966 and the challenge of striking the right tone at a time when the United States was facing its own struggles with racial segregation.
"He was careful about being self-righteous," Townsend said at the event.
In a famous "Day of Affirmation" speech at the University of Cape Town, Kennedy opened with an acknowledgement of the United States' own dark history of slavery and offered a call to action to the young people gathered.
"Each time a man stands up for an ideal, or acts to improve the lot of others, or strikes out against injustice, he sends forth a tiny ripple of hope, and crossing each other from a million different centers of energy and daring those ripples build a current which can sweep down the mightiest walls of oppression and resistance," Kennedy said.
Townsend said his oft-quoted remarks have been a source of inspiration that focused on hope and joy over anger and bitterness.
"It teaches all of us that whatever situation we are in, we have to do something," Townsend said. "We all have that responsibility."
In a panel discussion moderated by Sikelelwa Dlanga, SPA/MA '19, the film's producer, Larry Shore, spoke of the impact of Kennedy's trip.
"It was an important moment, an important symbol. It laid important seeds," Shore said. "It resonated in South Africa at a very bleak time."
Peter Edelman, professor of law and public policy at Georgetown University, said Kennedy was the first prominent person to write about South Africa and begin to talk about putting pressure on the government to change its apartheid policy.
"Robert Kennedy was very committed to justice — economic, racial, and social justice," said Edelman, who worked as a legislative assistant to Kennedy. "It was something he felt strongly about. Going to South Africa in a sense was connected to what he did in the United States."
"The film highlighted parallels between apartheid and segregation laws in the U.S.," said Christine Platt, managing director of the Antiracist Research and Policy Center at AU. "The film brought to life a period of history that is too often not given enough attention," she said. "For me to get such an intimate look … it was very powerful and painful."