On Campus
Harvard's Robert Putnam Talks About Social Class Lines and Children Divided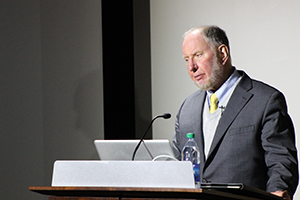 He has been called the most influential academic in the world today, but when Robert D. Putnam came to American University to speak at the School of Public Affairs' Policy Forum for the first time on February 12, his message of social dislocation in the U.S. came not from his role as adviser to presidents and prime ministers, but from the much more humble perspective of a son from a classic American small town.
"We're increasingly becoming separate societies living in the same country," said Putnam. "We thought this was about race. It isn't – it's about social class."
Putnam, the Peter and Isabel Malkin Professor of Public Policy at Harvard University, spoke to a packed audience as part of SPA Policy Forum series about the growing separation between rich and poor children in America. As he talked about his new book, Our Kids: The American Dream in Crisis, his message was blunt: America is being torn apart by "a shriveled sense of we." Putnam shared anecdotes from his post-industrial town of Port Clinton, Ohio, and his own granddaughter to help illustrate.
"When kids go to school, they go to school with a backpack reflecting their family and their neighborhood," he said. "It is the contents of that backpack – whether it contains nurturing and investment, or isolation and violence – that will determine not only the trajectory of the life of the child who carries it, but of America's future as well."
Data collected by Putnam's research team in 10 U.S. cities and presented in multiple graphs and charts, painted a troubling picture of a growing inequality gap. By manifold measurements – from hours spent in loving parental interaction that Putnam calls "Goodnight Moon time" to family dinners and participation in extracurricular activities – the children of affluent families are pulling away from their poorer counterparts.
In Putnam's town of Port Clinton, shuttered factories and the migration of the rich to gated mansions and private schools has shredded the social fabric.
"It's not that there's a difference between rich and poor kids," Putnam said. "It's that it's getting bigger. That gap gets fully open before kids get to school."
But there is a prescription that, over the course of decades, Putnam believes, could reverse these devastating trends – the acceptance by the wider American society that investing in the neediest will bring benefits to both the recipient and the giver.
"Shared investment in everyone's kids was key to American growth and fairness in the past," Putnam stated. "It is the key to restoring the American Dream today."
The SPA Policy Forum is a semi-annual event that brings together businesses, public agencies, and non-governmental organizations who are committed to bringing about social change through strategic collaboration and cross-sector partnerships. Through a series of panel discussions, these events highlight new and innovative solutions to today's biggest public policy problems.