Internships
Ready to Launch: The Power of Mentorships for Jumpstarting Careers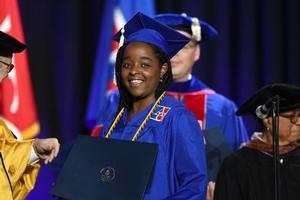 Samantha Miller, a 2019 CAS BA graduate, currently serves as a Community Wildlife Fellow at the National Wildlife Foundation. In this 11-month fellowship, Samantha supports the Community Wildlife Habitat and the Mayors' Monarch Pledge, two initiatives to which work with communities and local governments to enhance high quality habitat that can support pollinator diversity.
Samantha was born in Jamaica and immigrated to the US when she was two years old. She had an interest in the environment from a young age and being a Vermonter, enjoyed spending time outdoors taking part in activities like hiking.
In her freshman year of high school, Samantha realized her passion for environmental science. She took all of the classes that she could on that and related topics and benefitted from supplemental readings on topics such as climate change policy provided by her teachers. 
During her undergraduate experience at AU, Samantha honed her leadership skills and environmental knowledge and experiences. She was a participant in in the Leadership and Ethical Development program (CAS-LEAD), which helped her build relationships with faculty.  She was also a member of Delta Phi Epsilon, the foreign service fraternity, and volunteered at community gardens in D.C helping to address food equity and justice issues. Samantha was the Solar Ambassador team lead leader for Re-Volv, a national nonprofit, on efforts to enhance access to solar energy for smaller nonprofits in DC. Re-volv, founded and operated by an AU alumnus Andreas Karelas, runs teams on college campuses across the country.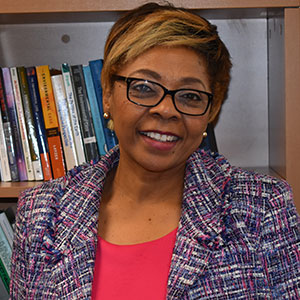 Upon graduation, Samantha connected with the 2018 William K. Reilly Awardee and former Head of Fisheries at the US Fish and Wildlife Service, Dr. Mamie Parker. SPA Professor and Center for Environmental Policy Director Dan Fiorino made the introduction upon learning that Dr. Parker was seeking a summer intern.
As an intern, Samantha helped Dr. Parker on several conservation projects and edited the forthcoming Women in Wildlife Sciences—Building a Diverse Future, an edited volume by the Wildlife Society focused on the ethnic and diversity issues in the conservation professions. Chapters focus on indigenous, LGBTQ and African American female conservation leaders. According to Samantha, "it was eye opening and inspiring to work with such accomplished women who really wanted to cultivate a space where I felt supported and was given a chance to grow professionally and academically." During the internship period, Samantha also spent multiple days shadowing Mamie and conservation staff, including leaders at the Chesapeake Conservancy and the US Fish and Wildlife Service, which both allowed her to meet officials within the agency and helped her envision potential future career options. 
Samantha worked closely with Mamie who openly shared stories about her experiences and challenges as a pioneer black professional in the conservation movement. The environmental movement has long been overwhelmingly white and faced challenges recruiting and retaining black professionals. Mamie and the others who will be highlighted in the book are pioneers in the conservation and wildlife professions who pushed back against cultural insensitivity and racism to not only excel personally, but also to break down barriers and create a professional network to support and uplift the new generation of wildlife professionals. 
According to Samantha, "Mamie is such a positive person-- I enjoyed seeing her in action and watching how others reacted to her so positively."  Mamie said, "Samantha worked very hard and was a pleasure to mentor. Mentoring is all about giving and receiving wisdom and Samantha gave us so much and was a huge asset in corralling many prominent authors to help get our book done."
Even now, months after their initial internship, Samantha and Mamie keep in regular contact and have developed a great relationship that will last a lifetime.
When asked about tips for current and future AU students regarding taking advantage of possible internships and opportunities to be mentored, Samantha's main message is that you have a lot to learn from professors beyond what they teach in class. "Professors are there to open doors for you," she said. "Being a positive, creative and uplifting presence in class will make sure a professor never forgets your name," said Samantha. She added, "professors take note when you produce work that is well researched and thoughtful and often won't hesitate to help you by writing references or sharing internship and fellowship opportunities," said Samantha. She also encourages students to take advantage of the amazing classes and professors that are in other colleges-- this opens the doors to different opportunities and can help expand your intellectual journey.