Research
New Research Reveals Influence of Social Media on Modern Warfare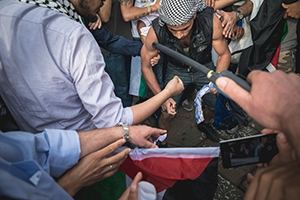 In an age when social media dominates personal communication and political discourse, information technology is also changing the dynamics of war. A new study reveals how international public opinion as expressed via social media can influence conflicts on the battlefield.
"Social media allows news to travel about conflict faster and more easily," said American University School of Public Affairs' assistant professor Thomas Zeitzoff. "It speeds up the war-information news cycle. Audiences are able to see the violence in near-real time in some cases, and social media allows them to share and comment on what is happening."
The study, which was authored by Zeitzoff, was recently published in The Journal of Conflict Resolution. As part of the research, Zeitzoff looked at an extremely disaggregated dataset drawn from hundreds of thousands of Tweets, as well as liveblogs covering the conflict, to examine the behavior of the armed forces of Israel and Hamas during the 2012 Gaza Conflict.
The data report military actions and international audience behavior at the hourly level during the 179 hours of the conflict. Zeitzoff also included popular support for each side as expressed by international users of Twitter, and measured how Israel's and Hamas's actions responded to shifts in that support.
Prof. Zeitzoff found that online opinion trends reduced the intensity of the conflict, particularly for Israel. This effect, he discovered, was greater than the effect of key international actors — the United States, Egypt, and the United Nations.
For more information on SPA research, visit http://www.american.edu/spa/research/