Alumni
Alumni Share Insights from Nonprofit World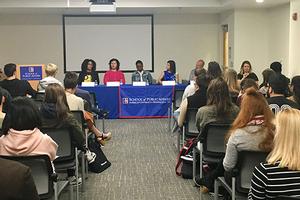 A panel of five graduates from the AU School of Public Affairs (SPA) recently offered advice to students on the transition from college to what they indicated was a good job market for those entering the nonprofit sector.
The alumni, who represented a variety of organizations and service sectors, emphasized the importance of hard work, flexibility, and dedication to a nonprofit's mission as students launch their careers.
"I encourage you to find out your 'why'--then volunteer at any and every organization that is aligned with your values and beliefs," said Samantha Davis, SPA/MPP '12, who founded The Black Swan Academy, a nonprofit focused on leadership training for black youth. "Don't be afraid to evolve in your work."
On any job, Ivone Guillen, SPA/MPA '17, suggested welcoming additional assignments and taking advantage of opportunities to build new skills. Guillen, who has worked for faith-based organizations including Bread for the World and Sojourners, is now a Catholic social teaching education coordinator for the U.S. Conference of Catholic Bishops' Department of Justice, Peace, and Human Development. She encouraged students to consider their passion area (hunger, immigration, etc.) then consider a focus on influencing public policy or direct service.
Before she started her own organization, Jaleesa Hall, SPA/MPA '14, said she worked at a variety of organizations as "a spy looking at best practices" on everything from budgeting to hiring to building a volunteer base. She was with a Washington, D.C., charter school, the Hirshhorn Museum, and then Wolf Trap National Park for the Performing Arts. About two years ago she established Raising A Village Foundation to provide intervention programs and community resources to children and families in the District.
Hall and Davis both talked about the importance of listening and partnering with existing efforts in communities to improve the lives of marginalized populations.
Samantha Kobbah, SPA/MPA '19, attended the event to better understand what it takes to be successful in starting a nonprofit— something she aspires to do. "There were a lot of good gems here," said Kobbah, who works in the Office of the Deputy Mayor for Education in D.C. "They emphasized the importance of continuing with professional development after you graduate and leveraging those assets along the way."
Other speakers included Marley Rave, SPA/MPA '13, who shared her experience working at Meals on Wheels as vice president and chief of marketing before moving to Autism Speaks, where she is now national director of major giving. John Van Zandt, SPA/MPA '12, spoke about his work as director of program operations for St. Joseph's Villa in Richmond, Virginia.
Alejandra Creixell, SPA/MPA '19, said she appreciated the diversity of the panelists. "It was very nice to hear people who actually graduated from the program and to see what they've accomplished with the same degrees we are pursuing," said Creixell. As a result of their advice, Creixell said she is considering getting a job while in graduate school to gain work experience in nonprofit areas where she has a passion, including education, women, or immigration issues.