Environment
SPA Center for Environmental Policy Hosts Panel on Climate Adaptation and Development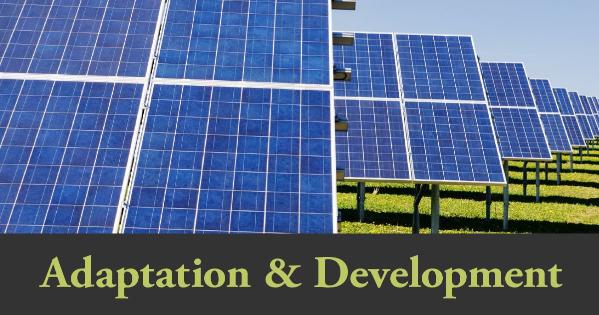 While policymakers and environmental advocates often focus on the need to reduce emissions that cause climate change, global citizens are already feeling the impacts of a warmer planet.
SPA Professor Todd Eisenstadt hosted a panel discussion on February 3 that looked beyond mitigation to adaptation policies that may help stabilize areas affected by extreme weather events such as drought, intense storms, and flooding. Sponsored by the SPA Center for Environmental Policy (CEP), this was the final in a series that examined ways to effectively support vulnerable areas coping with climate change.
Since the hardest-hit countries are often under-resourced, experts pointed to both moral and practical reasons to act with urgency. Estimates project from 25 million to 1 billion climate migrants by 2050.
"There are certain [climate change] problems that are too big for individuals to handle -- or even countries," said Eisenstadt. "If we don't all address these scientifically validated and central problems collectively, swiftly, and strongly, then we are not going to be able to sufficiently safeguard the future of our grandchildren. Adaptation is something we should do, and is increasingly viewed as something we must do."
Panelists made the case for investment in adaptation policies and shared some promising examples.
"Locally-led adaptation is all about confronting the current status quo and setting a higher bar for adaptation, to really ensure agency by local actors," said Tamara Coger (BA '11), senior associate at the World Resources Institute's Climate Resilience Practice, which participated in the first annual Climate Adaptation Summit on January 25-26. The commission recommended investing $1.8 trillion in locally-led adaptation projects over the next 10 years, which may yield up to $7.1 trillion in benefits.
"Adaptation is inherently local," Coger added. "It's involving the people and communities on the frontlines who have first-hand knowledge of those climate impacts and the nuances behind those challenges."
Assem Prakash, professor and director of the Center for Environmental Politics at the University of Washington, suggested using political strategy to move these issues forward. Mitigation policies, with delayed or invisible payoffs, are less politically attractive than adaptation projects, which bring benefits with the next flood cycle, hurricane, or drought.
"Whenever problems are visible, it's easier to mobilize political coalition," Prakash said, pointing to a recent survey that found that informing people on adaptation costs increases their willingness to support mitigation efforts. "We cannot ignore adaptation because climate change is already in motion and disproportionately affects the poor and the vulnerable sections of society. The challenge is how to construct the adaptation policy mix."
Kanta Kumari Rigaud, lead environmental specialist and Africa regional climate change coordinator for the World Bank, provided a snapshot of community-based projects in Uganda, Ethiopia, and sub-Saharan Africa. Early warning systems and satellite information about water sources aim to help alert farmers about drought conditions, and technology can provide clean energy and sustainable natural resource management practices.
Climate adaptation can be bundled into development and presented with the right messaging as a chance to improve quality of life and promote equity, Prakash suggested.
"There are too many negative stories," Prakash said. "In spite of all the chaos that is taking place in the world, there still opportunity to take positive action. As scholars and informed policy makers, it's important that we share positive stories."
Conger agreed. "Adaptation is not 'giving up,'" she said. "Rather, it's about facing reality."