On Campus
Expertise of SPA Alumni and Faculty Featured at AU's Inauguration Events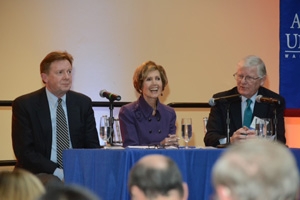 School of Public Affairs alumni and faculty experts were featured prominently in American University events commemorating the inauguration of President Barack Obama last month. Over 200 alumni, students and members of the AU community attended a series of panel sessions held on campus. Each panel session explored prominent policy and political issues facing President Obama as he begins his second term in office.
Distinguished Professor James Thurber, director of the Center for Congressional and Presidential Studies, moderated the event's keynote panel - "Gridlock on the Hill: How Will Congress and the President Work Together." The session explored the wide range of political and regulatory issues on the horizon in President Obama's second term, and ways that the President and Congress will – or will not – work together to address these national concerns. Panelists included American University President Neil Kerwin and Connie Morella, former ambassador and long-time U.S. House of Representatives member from Maryland. Ambassador Morella, also an American University alumna, is currently an Ambassador in Residence at AU's Women & Politics Institute.
Gary Jacobs, SPA/MPA '76, managing director of the Health Industries Advisory Practice at PricewaterhouseCoopers and John Boyer, SPA/PHD '89, former president and general manager of MAXIMUS Federal Services, were featured panelists at another panel, "The Future of the Affordable Care Act." The SPA alumni provided a comprehensive overview of the core opportunities – and challenges – presented by the implementation of "Obamacare" in the months and years ahead. Barbara Romzek, dean of the School of Public Affairs, served as moderator for the session.
SPA faculty were also featured in the "Future of US Foreign Policy" session. SPA Professor Stephen Tankel shared his insights as a panelist, offering in-depth analysis of the homeland security and terrorism prevention issues likely to be on the policy agenda for Obama's second term. Anita McBride, executive in residence at the School of Public Affairs and former chief of staff to First Lady Laura Bush, served as both moderator and discussant for the session. SIS Professor Jordan Tama rounded out the expert panel.