Alumni
SPA Offers First Alumni-only SAMI Course Offering, Key Issues for Emerging Nonprofit Leaders and Executive Directors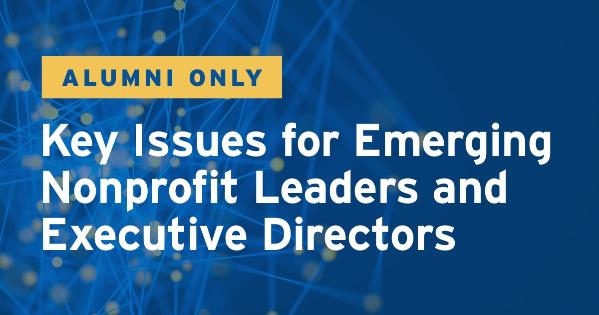 The SPA Analytics and Management Institute (SAMI) has announced the creation of its first alumni-only, and heavily discounted, course offering, Key Issues for Emerging Nonprofit Leaders, to be held virtually in May.
With three departments, 12 research centers, and 33 degree and certificate programs, SPA has built an incredible curriculum for students of public affairs. However, when Betsy and Peter Mangone provided a $1 million gift in 2017, SPA Dean Vicky Wilkins saw a chance to further build and enhance the practical analytic and management skills of enrolled students and alumni alike.
"We wanted to complement our traditional course offerings," said Wilkins. "Students were getting introduced to important skills and concepts in the classroom but needed an opportunity to dive deeper in order to master these innovations. SAMI fills that need, and, even better, includes a free non-credit option for current students."
The SPA Analytics and Management Institute (SAMI) launched in 2017, offers intensive, two-day workshops on a variety of skills vital to public and nonprofit leaders, taught by leading experts from within and without the world of academia. In its five-year history, SAMI has hosted 38 distinct courses, with both credit and non-credit options, on such topics as mapping, grant writing, software-specific data analysis, lobbying, effective presentations, navigating the Freedom of Information Act, policy writing, and media skills. For-credit SAMI options can count toward the Certificate in Analytics and Management.
Current students and alumni have enrolled for more than 1200 spots in these classes. While a limited number of SAMI seats have recently been reserved specifically for SPA graduates, the new alumni-only designation represents the next step in the program's evolution. SPA Associate Professor and SAMI Director Seth Gershenson, who recruits instructors and collaboratively designs workshops to ensure the most relevant, cutting-edge content, sees value in an alumni-only learning setting for mid-career professionals.
"Graduate school teaches, along with facts and techniques, how to learn and digest new information," said Gershenson. "Since alumni have that strong base from their MPA or MPP, they don't need a full semester to refresh or update their skills. They only need a weekend of concentrated thought and discussion, with a leader in the field and with their classmates."
The first of SAMI's alumni-only offerings, SPA-085-908, Key Issues for Emerging Nonprofit Leaders and Executive Directors, taught by Professor Lewis Faulk and Adjunct Professorial Lecturer Erin Fuller (SPA/BA '93, MPA '94), will be held online May 15 and 22, 9:00am-4:30pm ET. The tuition is $450, discounted a full 70% for SPA alumni. The course covers the topics most relevant to nonprofit executive directors, board members, and other leadership, such as diversity, equity, and inclusion; board development and governance; human resource and performance management; and financial growth and development. Its fresh content includes discussions of new COVID-era nonprofit challenges, such as volunteer leadership, board governance, and revenue models.
"Most courses don't focus on the role, responsibility, or power of volunteer leaders, who may need to evaluate their personal and professional liabilities differently during COVID," explained instructor Erin Fuller, president of Association Solutions, a consulting firm for organizational and community engagement, who is also on the SPA Board of Advisors. "In addition, COVID has resulted in people engaging in "time curation," meaning that nonprofits truly have to "sell" the benefits of volunteer leadership in a different way."
The pandemic, she continued, has complicated traditional event-based fundraising efforts, introducing the need for new mechanisms such as credentialing and digital advertising.
"Revenue models are upside down," she explained. "PPP funding means that most nonprofits weathered COVID okay and are leveraging funds for new product development, cooperative investment, and global growth."
"The world is constantly changing," added Gershenson. "Whether we're thinking about the policy landscape, technological frontier, or techniques and best practices, there's always something new to learn that will give you an edge. Progress is good, but unfortunately progress also means that some of those techniques you learned in graduate school will eventually become obsolete."
Wilkins and Gershenson recognize this dynamic and see SAMI programming as a way to fulfill President Roosevelt's original charge to promote ongoing contact between the collegiate world and the operations of government.
"Whether it is a refresher, re-tooling, or learning something completely new," said Gershenson, "these are skills that immediately add value to your resume and skills and confidence to your workplace."
The SPA Analytics and Management Institute is supported by a generous gift from Betsy (SPA/BA '65, AU Trustee, and SPA Board of Advisors) and Peter Mangone. This alumni-only course was made possible by a gift from SPA alum Martin "Marty" Wall (SPA/MPA, '77).
To learn more about SAMI course offerings, or to register, visit the website or email spagradaffairs@american.edu.