Achievements
SPA PhD Graduates Successfully Navigate the Academic Job Market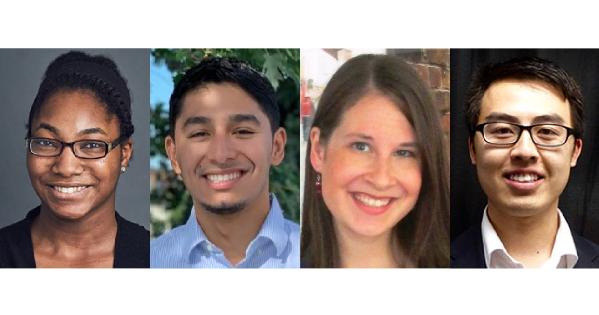 Despite the difficulties brought on by the COVID-19 pandemic, SPA PhD students are finding success on the academic job market.
Dr. Anna A. Amirkhanyan, associate professor and PhD program faculty coordinator, has a unique understanding of the hurdles facing this particular graduating class.
"This has been a challenging year," said Amirkhanyan. "The number of academic and research positions was limited, and the interview process was unusual. Despite this, our doctoral students were incredibly effective: 1st through 3rd year students stayed focused on their research and 4th year students actively applied and interviewed for positions nationally and internationally. We are incredibly proud of their success."
PhD students took full advantage of preparatory opportunities offered by the Department of Public Administration and Policy (DPAP). Rui Wang, who recently secured an assistant professor position at the Shanghai University of Finance and Economics, leveraged these resources to acclimate to virtual job talks.
"To familiarize myself with online interviews, I exploited all the opportunities that DPAP offers by presenting in front of the faculty and my peers," said Wang. "I also participated in online seminars to get feedback from others outside the school. These practices helped me a lot during my job interviews."
Wang plans to continue his research examining how school diversity could mitigate the negative consequences of mass school shootings.
Hillary Allison Mellinger, a Justice, Law & Criminology student, also met with success on the academic market. Mellinger was hired as a tenure-track assistant professor at Washington State University, in a position well-aligned with her original academic goals to explore immigration, race, inequality, and social justice.
"Washington State University (WSU) embodies the type of learning environment that I hoped to contribute to when I began my doctoral studies," said Mellinger. "I embrace WSU's commitment to creating a more just, equitable, and safe world, as well as the Department of Criminal Justice and Criminology's focus on blending both theory and practice."
Jourdan Davis, a DPAP student focused on social equity and behavioral public administration, shares this optimism about her new placement. Hired as assistant professor by the University of North Carolina-Charlotte, Davis looks forward to doing work that transcends the campus.
"I am excited to join UNCC because of their commitment to community engagement," she said. "I look forward to conducting community-engaged research and building relationships with the Charlotte community."
Alberto Jacinto, who focuses on education policy and public management, has accepted the position of post-doctoral research associate at Texas Tech University. He hopes to explore new academic territory that recognizes the unique challenges of the modern educational landscape.
"I'm excited at the opportunity to conduct a program evaluation of blended and personalized learning, which is important now more than ever considering the shift to homeschooling over the past year," he said.
All placed students praised the support of their doctoral committees in helping develop their job market papers, preparing for interviews, and writing letters of recommendation. Wang singled out Dr. Kenneth Meier's summer job search seminar, which helped the cohort prepare and organize application materials, and Mellinger gave a special shout-out to AU's Center for Teaching, Research, and Learning.
Dr. Amirkhayan takes pride in these collaborative efforts of AU faculty members to ensure that students are prepared to enter careers in academia.
"In our doctoral program, we primarily focus on preparing students for careers as tenure track faculty members in research universities," said Amirkhanyan. "To achieve this, every faculty member in DPAP works extensively with PhD students to give them the research skills needed to succeed in academia. Combined with professional development and teaching opportunities we extend to our students, these investments paid off this year."