Research
SPA Professor and Center Explore the Path to Equitable Development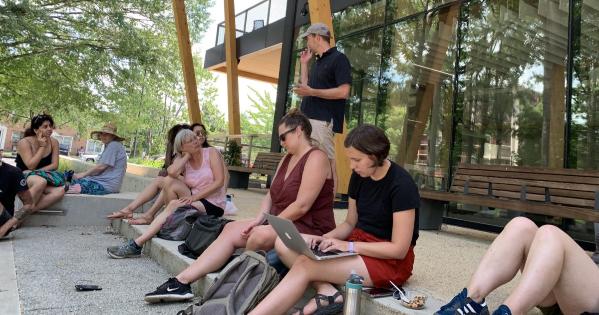 The national conversation on pandemic-related social outcomes echoes themes of racial inequities that have become far too familiar. SPA Professor and Director of the Metropolitan Policy Center Derek Hyra examines the ways in which these inequities manifest across urban landscapes, especially in response to public policy interventions.
"Broadly, my research attempts to understand how to achieve equitable development," said Hyra. "How do you get resources into under-served communities that actually benefit low- and moderate-income people, rather than displace them?"
The Metropolitan Policy Center looks to answer these questions by identifying local and national dynamics stimulating neighborhood change and redevelopment and documenting their impacts. The Center's research looks to inform policy in such a way that interventions prioritize equity and increase the life chances of low-income urban residents, a goal summed up in the debate over urban gentrification.
"Gentrification, a term coined by Ruth Glass in 1964, occurs when upper-income people move into a low-income community and the low-income residents eventually get displaced," said Hyra. "De-gentrification would be to have upper-income individual and investment influx into low-income neighborhoods without displacement." To prevent displacement, Hyra insists on a need for new affordable housing and community economic development policies.
The debate over the future of gentrification in American cities ends with either this reversal, via de-gentrification, or through disaster gentrification, in which capital exploits the situation and gentrification continues, or even grows. Furthermore, says Hyra, the U.S. history of racial exploitation and resulting disparities in wealth and income mean that people of color typically suffer disproportionately from gentrification-induced displacement.
Gentrification and COVID-19
In "De-Gentrification or Disaster Gentrification? Debating the Impact of COVID-19 on Anglo-American Urban," published in the book Volume 2: Housing and Home as part of the series Global Reflections on COVID-19 and Urban Inequalities, Hyra and co-author Loretta Lees consider the phenomenon of gentrification in the wake of the pandemic. As the federal government pumps out trillions of dollars to stimulate a national recovery, how will that influx of cash affect low-income spaces across the country?
Disaster gentrification occurs in the wake of events like Hurricane Katrina, said Hyra. Though some public housing in the city was spared from flooding, the federal government and local New Orleans officials used the tragedy as an excuse to demolish public housing, further displacing people of color and reducing the availability of affordable housing.
"New Orleans recovered in a way that didn't bring many vacated people of color back to the city, and the city and its school system became more white-dominated," he explained.
This concept of disaster gentrification, in which inflows of public and private money lead to the displacement of low-income residents, can be applied to the pandemic.
"People were locked down in their homes for a year and a half," said Hyra. "Our economy came to a screeching halt. That is a disaster. Now we are pumping out trillions of dollars to stimulate our economy. We also have set the federal interest rates incredibly low. Who has access to that capital? We have a sense that much of this federal recovery money is setting up a massive gentrification wave as the country recovers from the pandemic. So this disaster, a health disaster and an economic disaster, may lead to a recovery that is utilized to displace people and gentrify them out of their community."
Displacement may also come through policies related to the national moratorium on evictions, which was recently extended in places with rapid COVID spread.
"In the last year, if you were low-income and unemployed and couldn't pay your rent, the landlord could not throw you out," said Hyra. "The federal government has deployed over $80 billion to cities so they can create their own programs to funnel that money to the landlords. Soon, there will be a major nation-wide eviction process, because the $80 billion isn't sufficient or being deployed quickly enough to prevent displacement."
After the evictions, continued Hyra, money from real estate investment trusts (REITs) will likely flow in to buy the empty buildings and rehab them for upper-income buyers, repeating and compounding the problem of inequity. Also, the upper-income residents driven out of cities by COVID will eventually return, ushering in significant gentrification during the post-pandemic recovery period.
Hyra sees a missed opportunity in COVID relief packages and Biden's proposed infrastructure plan, which dedicates, respectively, $5.3 trillion for economic recovery and $1 trillion for infrastructure but only $80 billion for affordable housing, the amount going to landlords for back rent. By contrast, hundreds of billions of dollars in COVID relief alone went to loans, grants, and bailouts to businesses both large and small.
"That is such a small percent," said Hyra. "What about affordable housing infrastructure? About $70 billion is needed just to upgrade our current stock of public housing so it can be livable. The $80 billion was deployed so slowly that it's not going to many of the people around the country that are in need housing rental assistance." But even if these funds got out the door more quickly and made all the landlords whole, then what? Low-income people don't have enough resources to afford the rental housing stock to begin with. So you kept people in place during a pandemic, but we didn't do anything to lock in their housing security over the long haul."
The paper calls for a housing infrastructure bill to provide safe, livable public housing, and more resources for the Housing Choice Voucher Program, which is now only available to one in four people who need it. With home prices, and now rental rates, skyrocketing, many hardworking Americans will find it increasingly difficult to afford shelter during our post-pandemic recovery period.
"We find trillions of dollars for all sorts of things, but we're not really bolstering the affordable housing infrastructure for low- and moderate-income people working one, two, maybe three jobs just to make it in this country," said Hyra. "Everyone went through this health pandemic, and now they're going to be in another crisis, an affordable housing crisis. And part of that crisis was created by the way we spent our COVID recovery money."
Hyra points to the economic forces involved in the Great Recession recovery following the global financial crisis of 2008, one of the most telling examples of disaster gentrification. Banks got a bailout, he says, investors poured this money into low-income neighborhoods, and low-income people paid the price.
"We got people unsustainable loans, and those loans disproportionately went to people of color. Then they got foreclosed on, so they got evicted, forcing them into the rental market. And then who came and bought the single-family homes? The real estate investment trusts."
The cycle continued, with so-called "private" money funding the displacement of low-income Americans, and Hyra sees the same forces at work using COVID relief money.
"Our country never learns. Once again, the people that are most vulnerable are going to get hurt even more as we recover from the pandemic, and inequality is going to get exacerbated."
Even in cases where government-subsidized affordable housing becomes available, keeping people in physically in place, other forms of displacement can be felt.
"Even without residential displacement, people can feel lost in their own community," he said. "They experience a cultural displacement. The small mom and pop stores they used to go to can't afford the commercial rent. The barbershop leaves. The small convenience store, the little hardware store, those things leave, replaced by amenities like condos, wine bars, coffee shops, and dog parks that really serve upper-income people."
Political displacement can also result, as newcomers vote out minority representation to elect someone more aligned with their interests. Meanwhile, many overvalue the gentrifiers, arguing that they bring money into the city, potentially widening the tax base and funding more public services.
"There could be residential displacement, cultural displacement, and political displacement, and we need to avoid all three of them if we are going to proceed with equitable development. What goods and services are being provided to the low-income people being threatened by displacement on multiple levels? If that's not being addressed, well, then gentrification is very problematic."
The Risks of Urban Greening
A second publication, "Decolonizing the Green City: From Environmental Privilege to Emancipatory Green Justice," which appeared in the Journal of Environmental Justice this May, features a similar story from Hyra and co-authors Isabelle Anguelovski, Anna Livia Brand, and Malini Ranganathan, focusing on the 11th Street Bridge Park project in the Anacostia neighborhood of Washington, D.C.
The 11th Street Bridge stretches over the Anacostia River, now considered the racial dividing line of D.C., which sat much further west before rolling gentrification changed the city's racial demographics. In 2018, local government and developers shared plans to build an elevated park with a greenspace on the bridge. According to its website, the project looks to serve as ". . . a space for healthy recreation, environmental education, and the arts."
However, Hyra's article warns that such well-meant urban environmental sustainability initiatives can reinforce racial and spatial disparities. Common solutions to pollution and lowering the carbon footprint, such as encouraging biking and public transportation, or finding innovative ways to expand the tree canopy through green spaces, may introduce gentrification issues. Without careful planning, this process, called "urban greening," can raise property prices, as an environmentally sustainable, eco-friendly project costs more than standard construction and can change the culture of the neighborhood.
"I know that some people see that as, 'oh, well, here's a bridge that's going to bring together these two groups segregated and separated by the river,'" said Hyra. "But at the same time, people in Anacostia sort of see it as a Trojan horse: the white, affluent people who come into Anacostia may start to rehab homes, or may want certain amenities, like a wine bar, raising commercial and residential values. That may lead to the displacement of the low-income people of color that live east of the Anacostia River."
"When we think about biking, who bikes and who doesn't?" he continued. "Whites are more likely to bike than people of color. When residents see biking lanes coming into their community, they think 'there's an amenity that's being built for somebody else.' So sometimes bike lanes, bike shares, and scooters can be seen as a signal of gentrification."
The paper pushes the 11th Street Bridge Project sponsors to address these dangers.
"We say, hey, you're putting in this great park and you're connecting to parts of the city that have been separated, but you also may be putting an infrastructure development that eventually leads to the displacement of low-income people" said Hyra. "We basically ask that people really think more about installing green infrastructure in a way that it reduces the carbon footprint but also reduces the fear and the reality of displacement."
The piece also includes a primer on the local and national history of segregation and discrimination.
"Anacostia is 95% people of color because there was a history of redlining and disinvestment" said Hyra. "It's not that the 11th Street Bridge Project has to alleviate all of that disinvestment or decrease the wealth and income inequality in D.C. or in the United States. But they should be cognizant that this inequality exists and that the park has to go forward with a concern for equity."
While officials and associated organizations have created an equity plan and raised money specifically to maintain equity and affordable housing, Hyra fears that it is not enough to offset the danger of gentrification and displacement, especially when added to other Anacostia investments.
"We're asking the city, and the federal government, to think more systematically about how to do green infrastructure improvement," he said. "The Biden Administration is likely going to pass a trillion-dollar infrastructure plan for the country, but just improving our roads and bridges might actually stimulate gentrification in some places. Some of that money should be spent on affordable housing infrastructure. [Similarly,] if the city doesn't kick in more money for affordable housing, then Anacostia is going to gentrify in the typical way: you develop the place, but not the people in place, and the low-income residents will be displaced to other areas throughout the Washington, D.C. region."
The authors also express concern for small businesses and economic opportunities for Anacostia residents. As an example, Hyra pointed to the D.C. land which once held the mental institution St. Elizabeth's. The property was divided between the federal and local government, who installed an arena for the WBNA team the Washington Mystics. The development stimulated economic investment in the neighborhood, with predictable effect.
"Are the small mom and pop businesses located in Anacostia getting the contracts to do food service?" he asked. "Will jobs created from new amenities go to Anacostia residents? Economic opportunities need to be cultivated for low- and moderate-income residents. Will the Bridge Park have programming that really fits with the tastes and preferences of lower-income people of color? The programming should be for everybody, but when you look at the architectural rendering of the bridge, it looks like it's only catering to people with money."
Hyra hopes that this message penetrates to drivers of the project, including local advocates, funding sources, the D.C. mayor and city council, and developers. The city's recent initial budget proposal asked to raise taxes on the wealthiest residents to provide affordable housing for homeless and other services, a concept met with resistance by the mayor.
"If Washington is truly going to be an integrated and inclusive city of people of different racial and ethnic backgrounds, ages, and incomes, we have to have affordable housing, and more resources need to go into that," Hyra warned. "Muriel Bowser needs to hear this. The city council needs to hear this. But also, the Biden administration, which is planning green infrastructure, needs to hear this."
The Metropolitan Policy Center and the Geography of Reparations
The arguments from both publications, and the mission of the Metropolitan Policy Center, work from an idea called "the geography of reparations." This suggests that federal policy interventions beyond slavery, such as segregation, redlining, covenants, and federal investments, have created spatial, racial inequities. The government is responsible for working to correct these disparities via future policies.
"Spatial inequality is based on a history," said Hyra. "We can tie this inequality all the way back to slavery and harmful policies from the 19th and 20th century . . . It will take a geography of public policy reparations to alleviate some of the pain, hurt, and inequality."
The Metropolitan Policy Center has several projects, upcoming and ongoing, that focus on equity issues in D.C. The center is part of an international research collaboration analyzing urban development through a case study of The Wharf, the waterfront development. It is also working on a partnership with Southwest DC Action, a grass-roots advocacy group fighting against the destruction of three public housing projects in the area. A related grant opportunity would allow AU students the chance to help document the advocacy work, provide technical assistance around the community land trust, and examine the effect of advocacy on the health of residents. When pandemic concerns ease, Hyra and his co-authors hopes that MPC can host a symposium on green gentrification featuring Scott Kratz, the director of 11th Street Bridge Park Project, and D.C. policy makers.
Though it focuses on D.C., MPC regularly works with international scholars who want to utilize Hyra's expertise to address spatial inequity in other nations. Hyra's coauthor Isabelle Anguelovski, who directs the Barcelona Laboratory for Urban Environmental Justice and Sustainability, reached out for this reason. Another co-author, United Kingdom (UK) housing and gentrification scholar Loretta Lees, may join an additional project looking to examine affordable housing policies in the UK and the United States.
"The idea with the Metropolitan Policy Center is to learn about Washington and to take the lessons of the nation's capital and bring that around the world, to try to promote equitable development in other high-growth, high-wage cities with advanced service sector economies," said Hyra.
The center's work also connects SPA with other units on campus, such as the American University Anti-Racist Center, led last semester by Malini Ranganathan, another co-author. MPC faculty and staff include personnel from the School of International Service and the College of Arts and Sciences, doing much for the campus-wide push for collaboration. Hyra shows high appreciation for SPA and AU leadership that promote the goals of his research.
"Dean Wilkins' leadership is central to the work of MPC," he said. "She funds the center out of her own operating budget, and deeply supports our D.C. collaborative work. . . She gets that understanding Washington, D.C. and metropolitan dynamics affecting the city are important to the world. In addition, AU President Sylvia Burwell is very interested in us as an American University institution connecting to, learning from, and fighting for the low- and moderate-income segments of Washington, D.C. That is what the Metropolitan Policy Center does."