Achievements
SPA Students Compete in National Policy Simulation Competition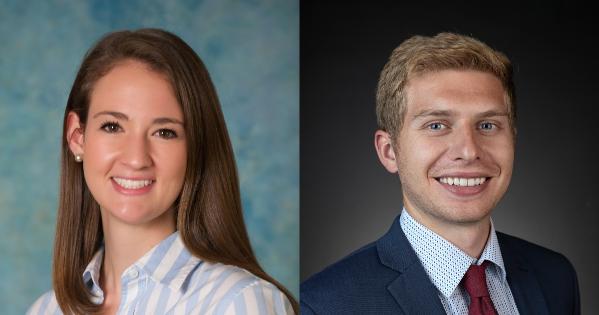 Just as national and international leaders have been forced to pivot quickly in reaction to the COVID-19 crisis, SPA graduate students recently got to test their decision-making skills, at an annual international policy competition that focused on the global pandemic.
Five top SPA faculty-nominated graduate students -- Anna deDufour, Angela Grieco, Cameron Martin, Robin Miller, and Robert (Matthew) Winchell -- participated in the NASPAA-Batten Student Simulation Competition, a day-long event sponsored by the Network of Schools of Public Policy, Affairs, and Administration (NASPAA) and the University of Virginia's Frank Batten School of Leadership and Public Policy. Winchell and Grieco, working from separate teams, each placed third among 20 competitors.
Teams consisted of 4-5 students from various universities, working together for the first time on March 6, operating remotely from their home computers. They were given various pieces of information, which were updated throughout the day, and asked to develop a policy memo and presentation about their suggested response. The event tapped into students' abilities to analyze data, think critically, and communicate as a team in the face of a public health emergency.
"It's something particularly ambitious students find challenging -- and they can add the experience to their resume," said Jocelyn Johnston, director of SPA's MPP and MPA programs. She noted students often do group work, memo writing, and analysis in class to prepare them for this kind of competition.
"It was a great opportunity to work in a team and build on what I learned," said Grieco, SPA/MPA '21, of the competition, which lasted from 8:30 a.m. until 5 p.m. and involved decisions about public health measures, social distancing, and finances. "It was really refreshing to meet and engage with students from other schools. We did our best and made the most of it."
Grieco said she had to make quick decisions on the spot, skills which will likely transfer to the workplace and help in her job search for a position in advocacy at a nonprofit. Likewise, Anna deDufour said she enjoyed the fast-paced, immersive experience.
"It was more collaborative than competitive. We were trying to work together as a team to leverage all of our different skills," said deDufour. "I liked the diversity and feel like it represented the policy and administration field, where you have to unite people across various backgrounds to reach shared goals."
deDufour, SPA/MPP '21, who aspires to a job in immigration policy, continued that the simulation made her reflect on how decision making can be improved to be more equitable for all groups. "Instead of going with the easy route or status quo, sometimes you need to be creative in devising policy solutions to serve everyone," said deDufour, who works part-time with the Justice in Government Project at AU.
Winchell, SPA/MPA '22, said the relevant nature of the simulation content made the competition especially useful, and he enjoyed using his project management skills to work with his team.
"It definitely opened my eyes to see what a lot of public administrators and public policy workers are doing now, in real life, with the pandemic," he said. "It was great to put this pandemic into perspective of what our leaders across the globe are doing, and it was interesting to try to come up with policy solutions."