Achievements
SPA's Lenneville Turns Lessons in Leadership into Truman Award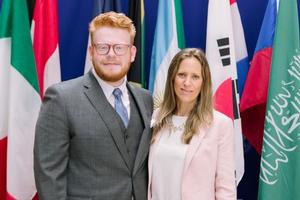 Mitchell Lenneville, SPA/BA'20, has been named a 2020 Truman Scholar, in a national competition that recognizes outstanding leadership, public service, and academic achievement.
The award, created by Congress in 1975 to memorialize President Harry S. Truman, features a $30,000 scholarship for graduate studies. Lenneville is one of approximately 60 scholars chosen from among 773 applications from 316 colleges and universities. More than 3,000 Truman Scholars have been selected since the program's inception, including eventual cabinet secretaries, U.S. senators, and nonprofit leaders.
"It feels unreal," said Lenneville, 23, who received word of the scholarship from President Sylvia Burwell by phone, while at home in Tualatin, Oregon.
Other national finalists included Allison Higgins (SPA/BA'20) and Noam Krainin (SPA/BA'21). Kefai Debebe (SPA/ BA'20) and Jessica Bach (SIS/BA'21) were also nominated.
Lenneville participated in the AU School of Public Affairs' Politics, Policy, and Law (PPL) accelerated three-year bachelor's program; he will receive a degree in Communications, Law, Economics, and Government (CLEG) in May. After a gap year, he plans to use the scholarship money to attend law or graduate school, before returning to his home state to work on public issues related to education, the environment, and rural communities – perhaps as an elected official or career public servant.
"There are things that the government can be doing to better serve people," Lenneville said. "People are looking for representation, creative ideas, and collaborative problem solving to tackle the tough challenges. That's what has most drawn me to public service."
Lenneville has deep roots in Oregon, where he was homeschooled until high school. At 16, he enrolled in Portland Community College and discovered a passion for politics. He has volunteered for U.S. Senate and Oregon gubernatorial campaigns, and managed runs for state senate seats.
In 2017, Lenneville transferred to AU with plans to develop his interest in speech writing. His campus activities have included Model UN and AU's Model G20 Summit, where his public speaking and organizational skills drew attention in the diplomatic training program.
"Mitchell is clearly fascinated in the political arena," noted Chris Swanson, associate director of the AU Office of Merit Awards, in his nomination letter. "AU students have a reputation for being eager to change the world and he is following in this tradition."
Mitchell organized a town hall meeting last year and led a rally, themed "College is a Debt Sentence," to raise awareness of rising education costs. In recognition of this effort, he was appointed to AU Student Government as director of financial aid and affordability.
Last fall, Lenneville interned at the U.S. Department of Justice as a speechwriter for the Attorney General, Deputy Attorney General, and other department officials, on subjects ranging from the opioid crisis to hate crimes.
In the classroom, he has maintained a near-perfect G.P.A at AU and has impressed his professors with his maturity and commitment to learning.
"He is so engaged and genuine," said Claire Griggs, professorial lecturer and director of the PPL Program, who puts Lenneville in the top 5% of students she has taught. "He's a model for the best and brightest AU has to offer.