In the Community
SPA Alumnus and Adjunct Recognized for Outstanding Contributions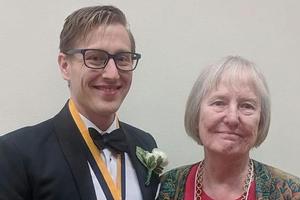 Steven Putansu, SPA/PhD '12, a senior social science analyst with the Government Accountability Office and SPA adjunct professor, was honored on June 6 for improving research methodology at the agency and saving significant taxpayer dollars.
Putansu, 33, received the 2017 Arthur S. Flemming Award for leadership and management. The award is given to federal employees for outstanding and meritorious achievement. In his nine years at the GAO, he is credited with contributing to rigorous technical standards and stronger criteria for performance audits, which have helped generate more than $160 billion in financial benefits for the federal government.
"I'm incredibly excited and very proud to have this kind of recognition, knowing the work I have done has been good for the government and the American people," said Putansu, adding that he hopes to live up to the legacy of the award, which has been given in the past to Chief Statistician of the United States Nancy Potok and former Chairman of the Federal Reserve Paul Volker.
At the GAO, Putansu works with various teams to figure out the research questions and methodology to use in evaluating government programs.
The Flemming Award cited Putansu for his efforts on several projects to improve the use of criteria, which led to updated guidance and tools for developing, assessing, and reporting on criteria in methodologically rigorous ways. He helped the GAO update procedures, training, and internal resources to make sure its policies were explicit and accessible. He was also recognized for strengthening various signature studies including the annual report on fragmentation, overlap, and duplication and GAO's Framework for Managing Fraud Risk in the Federal Government.
Putansu's work has led to improvements in implementing the Government Performance and Results Act, the Defense Department better managing education for special needs students, and the Agriculture Department targeting food safety inspections. A review of the President's Emergency Plan for AIDS Relief that he supported helped improve the overseas availability and management of urgently needed medication and supplies.
Putansu said he learned the importance of critical and contextual thinking at SPA. His dissertation, "Measured Words: Politics and Performance in the Federal Bureaucracy," examined the interplay between performance information, ideology, institutions, and interests in the decision-making process. As an adjunct at SPA, he teaches introductory graduate courses in public administration and policy. Outside of AU, he has also taught graduate courses in questionnaire design, and professional courses on focus groups, survey methods, case studies, content analysis, and basic statistics.
"I learn from my students and all their experiences," said Putansu. "Sometimes our graduate students are from the agencies that we audit. They always have good insights and perspectives that I can take back to GAO and help increase our ability to think critically."
Putansu was nominated for the award by GAO Comptroller General Gene Dodaro and was one of 12 recipients from five categories who were recognized at a June ceremony. The Flemming Awards were established in 1948 in honor of Arthur Flemming's commitment to public service throughout his career, which spanned seven decades and 11 US presidents.