Achievements
School of Public Affairs Students and Faculty Recognized for Service and Teaching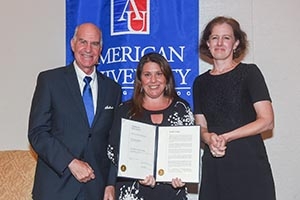 Every year, American University recognizes outstanding students and faculty who have made significant contributions in the areas of teaching, research, and service. This year, several SPA faculty and students were recognized for going above and beyond.
"I am so proud of our students and faculty for all their achievements," said SPA Dean Barbara Romzek. "Their outstanding work is one of the main reasons SPA enjoys its great reputation."
Sasha M. Gilthorpe SPA/BA'17 received the Catheryn Seckler-Hudson Student Achievement Award, which is awarded to a senior who best exemplifies qualities of character and achievement, while making significant contributions to Student Government. The award is named after the first SPA dean.
Asha Genevieve Smith SPA/BA'17 received the Harold Johnson Student Achievement Award, which is awarded to a student who has contributed most to promoting understanding and acceptance of cultural and racial diversity within the University community.
Caylee V. Watson SPA/BA'19 received the Stafford H. Cassell Student Achievement Award, which is awarded to a senior who best exemplifies the traits of Mr. Cassell, a beloved 1940's AU faculty member and athletic director. The award honors a student with "total, selfless dedication to the University, profound energy, and reliability as well as intellectual curiosity, friendliness, and helpfulness."
In addition to the student awards, faculty were also honored for their contributions to the American University community.
SPA Professor Jennifer Lawless received the award for "Outstanding Scholarship, Research, Creative Activity, and other Professional Contributions." The honor is given to a member of the faculty whose record of achievement reflects sustained scholarly contribution to the university.
SPA Professor Candice Nelson received the award for "Outstanding Service to the University Community in a Tenure Line Appointment." Nelson was recognized for her exceptional contributions to the university community.
Of those who received recognition for their commitment to American University are SPA Associate Professor Emerita Ruth Lane, for 50 Years of Service in the School of Public Affairs, Professor Laura Langbein for 45 Years of Service, Professor Robert Johnson for 40 Years of Service, and Professor Brian Forst for 25 Years of Service.
"These faculty members represent the finest scholars and teachers in the university community," wrote Provost Scott A. Bass in a memo announcing the award recipients. "Each has contributed immensely to the university, to the lives of students and colleagues, and to his or her respective disciplines. I am also pleased to recognize the faculty who have reached milestone anniversaries ranging from 25 to 50 years of service."
Both faculty award recipients and years of service honorees will be honored at the annual Faculty Recognition Dinner at the Washington College of Law Tenley Campus.
You can learn more about the SPA and other awards on the AU Awards website.