Achievements
SPA Students and Faculty Score Big Wins with 2016 American University Awards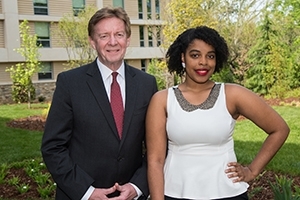 Each year, American University recognizes the exceptional achievements of outstanding faculty, students, staff, and alumni through University Awards. This year, 9 were awarded to students and faculty members from the School of Public Affairs, including the prestigious "President's Award."
"I'm so proud of the extraordinary achievements of our students, faculty, and staff," said Barbara Romzek, Dean of the School of Public Affairs. "They are the reason why the School of Public Affairs has been and continues to be successful."
AU students are encouraged to make the most of their time here, but you won't find many students who have been as immersed in campus life as Tatiana Laing, SPA/BA'16. She received the 2016 President's Award, the highest honor an undergraduate student can receive.
"Tatiana is a high performing student and a principled activist on matters of diversity and inclusion," said Gail Hanson, Vice President of Campus Life. "She is thoughtful, persuasive, persistent, and reflective. Those traits have earned her the respect of her fellow students and equipped her to be an effective intermediary among students, faculty, and administrators."
Six other SPA undergraduate and graduate students were honored with university-wide student achievement awards, including the following:
Matthew Waskiewicz, CAS/SPA/BA '16, Outstanding Service
Haley Hawkins, SPA/BA '16, Catheryn Seckler-Hudson Student Achievement
Grant Conway, SPA/BA '16, Fletcher Scholard Student Achievement
Evie Unsworth, SPA/BA '16, Kinsman-Hurst Student Achievement
Brian Hamel, SPA/BA '16, Outstanding Scholarship.
Tofigh Maboudi, SPA/PhD '16, Outstanding Graduate Scholarship
In addition, two SPA faculty members were honored with university awards. Lynn Addington received the award for Outstanding Scholarship, Research, Creative Activity, and Other Professional Contributions. Jane Palmer was honored for Outstanding Service. They were two of only seven faculty awards recipients, campus-wide.
Visit this website for more information about American University.