Government & Politics
Super Tuesday the Key to Predicting Campaign Outcomes?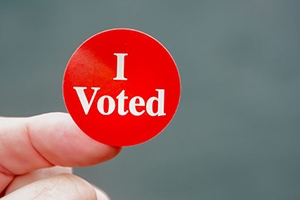 The press and political pundits around the world turned their attention to American politics this week, as voters from 12 states cast their ballots on Super Tuesday, a day of Democrat and Republican primaries key for candidates hoping to secure their party's nomination. News outlets noted that Hillary Clinton and Donald Trump, each won seven states apiece, but what does this big day mean for the election cycle? To shed some light how primaries impact the race, The School of Public Affairs' Jan Leighley, an expert in political behavior and voter turnout, weighs in.
Q: A lot of pundits and party officials are behaving like the sky is falling post Super Tuesday. Is the sky falling?
"In some senses, and certainly more for the Republicans, it is. Trump had run for president before and not succeeded in any respect, so Republican Party officials weren't expecting him to be so popular with voters this time around. And no scenario they would have considered would have led them in this direction, thinking that someone who has not had a long history in office or public life would be this close to the official party nomination. Parties are institutions, and they value predictability."
Q: Endorsements and campaign fundraising used to be a critical component of any candidate's efficacy. Why were they so powerful in the past, and why have they had such little impact this time around?
"Campaign consultants and academic researchers have a slightly different view about how powerful things, such as endorsements and campaign funding, are in determining outcomes. It really depends on the particulars of a race, and who the endorsement or campaign spending might affect in terms of vote choice. But what we have all missed this time is how many voters prefer someone who is not an established politician. That is a new, and seemingly powerful, dimension in how individuals are making their vote decisions this time."
Q: Have candidates like Donald Trump or Bernie Sanders changed presidential elections, or exposed a broken system? Or, can we expect that things will go back to "normal" next time around?
"Parties and candidates are rational—they are always adjusting to what they believe their political reality is, including how voters engage and what they seem to prefer. This time, I suspect parties may tinker around with rules and policies and voter outreach more than in years past—but in the end, it is up to individual candidates and elected officials to sustain those changes over time. Different candidates and officials have different constituencies and different incentives, so we'll see how they respond."
Q: On Super Tuesday, there were four different GOP candidates either winning states, or coming close. What will narrow the field?
"As much as many Republicans want to have a nominee selected prior to the convention, they also seem to want it to not be Trump. We'll see if they've moved quickly enough to persuade voters in the remaining states to vote for someone other than Trump. It's hard to predict in most—and especially this—election year."
For more information about voter behavior, visit Jan Leighley's staff profile on the SPA website.