On Campus
Authors Offer an Inside Look at Congress During the Trump Administration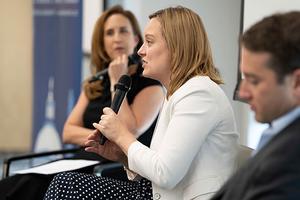 Jake Sherman and Anna Palmer, senior writers for Politico and co-authors of the Politico Playbook newsletter, recently discussed their book, "The Hill to Die On: The Battle for Congress and The Future of Trump's America," during an event held at American University School of Public Affairs (SPA). Their book details the no-holds-barred fight to control Congress early in Donald Trump's presidency.
Sherman and Palmer talked on stage with Betsy Fischer Martin, SPA's Women & Politics Institute executive director, about their experience having inside access to the key figures involved in the heated battles that defined the 2018 midterm elections.
"I think that writing this book has sharpened this point in my mind: Politicians exist in a political moment, meaning they act the way they do because of the political dynamics at one moment," said Sherman. "And also, that politicians are there to gain power, keep power, and increase power. How ever they might do that, they will do it."
During the event, the authors highlighted behind-the-scenes details of Congress not widely known, such as Senate Majority Leader Mitch McConnell's quest to reshape the federal judiciary. Palmer described how the House and Senate flip frequently, but judges have lifetime appointments.
"Mitch McConnell's single focus, more than anything else, has been to try to push through more conservative judges," said Palmer. "And, particularly in the Trump administration, they are younger, they are conservative, and they are going to be on the bench for a very long time."
When asked about some of the ways Congress has become more partisan, Palmer talked about the lack of relationships across the aisle.
"There's not a lot of community and bipartisanship in the sense of Republicans and Democrats getting to know each other as humans, as people," said Palmer. "I think that's to the detriment of the institution in the sense that you don't give your colleague on the other side of the aisle the benefit of the doubt that they're coming from a good place."
This event was part of Jumpstart, a two-day preview of the SPA graduate program experience, which included panel discussions, tours, events, and classes.