Achievements
Top Homeland Security Officials Support SPA Graduate Student Education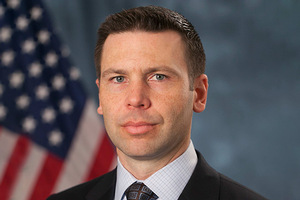 Graduate students in Trace Lasley's Principles of Homeland Security (GOVT 630) class this spring gained more than a theoretical understanding of the subject matter. Thanks to personal feedback on their work from professionals––including former acting U.S. Secretary of Homeland Security Kevin McAleenan––many left with an endorsement of their ability to enter the field.
"I was pleased to let them know [that I] would hire all of them," says McAleenan, who reviewed the students' final projects and assessed their presentations via Zoom. "The expertise they were demonstrating, the professionalism, and the skill set would make them successful in a homeland security setting across a number of different agencies. I told them I felt very confident about the next generation of homeland security professionals that was coming through the program."
Lasley, a professor of practice at the AU School of Public Affairs (SPA), said that McAleenan's praise encouraged his 17 students, who competed in teams to write and present reports that analyzed terrorist threats.
 
"It was a great experience overall to organize this; even in the face of the pandemic, it still worked perfectly," he continued. "I could not have imagined it going any better."
The last time the class met, in mid-March before moving online, Patrick Flanagan, CAS/BA '03, McAleenan's former chief of staff, gave the students a crash course in executive-level briefing. He emphasized the importance of concisely communicating complicated material and translating theory learned in the classroom to a busy workplace environment.
"I liked how Trace was trying to make the class real-world applicable for the students," Flanagan said. "That's why I went to AU––to get a public policy background and also exposure to decision makers and the way policy was being conducted in Washington."
McAleenan was a virtual guest lecturer for the class on April 16, and then reviewed the final two teams' 35-45-page written reports, on the nexus between transnational crime and homeland security threats. On April 23, three students from each team presented their findings via video online to McAleenan, who selected a winner and fielded questions.
Bailey Fillinger, SPA/MA /21, found it rewarding to get professional insight on their briefs. "They brought in relevancy. It went from being a school project to being an actual product," she said. "By the end, it was stiff competition and we were all so passionate that I think we did a better job."
Lasley said it was a powerful experience for many of the students. "I was worried about how the virtual interaction would take place, but in some ways it was better," he says. "The questions had to be more direct. There was less of a barrier between the speaker and the audience. It made the engagement more personal."
Alexandra Crockett, SPA/MS '20, said many in her program view the Secretary of Homeland Security as somewhat of a celebrity, and she was initially intimidated about briefing him. But the tips that Flanagan provided––such as being ready to provide details about any data mentioned––helped prepare her.
"The Secretary was so genuine and approachable. He treated us like we were actually working for him," she said. "He did not hold back on asking challenging questions, but I appreciated that. It was truly inspiring and motivating to know people at such a high level would take time to work with us. And the feedback we got and the experience of briefing is something we will all remember forever. It's by far the coolest experience I've had at AU."
McAleenan and Flanagan both indicated they would welcome the chance to work with SPA students again.
"It was so much fun to interact with students who clearly had work experience and were ready to engage on an intellectual level about the complexity of these topics," Flanagan said. "I was really impressed. The university setting is about dialogue across a wide variety of ideas. That class provides that in a microcosm. Everybody was able to come to the table with informed viewpoints that allowed each other to debate. I felt I walked away with perspective. Those students were on fire when it came to providing perspectives."
McAleenan added, "It was a great experience for me. I got to inculcate the kind of things I found effective from analysts presenting to operational leaders and decision makers, and also give them a lot of positive feedback on the depth of their thinking and how well they approached the task. They did a fantastic job."