Achievements
SPA Ranked Number 3 Graduate Program for Public Administration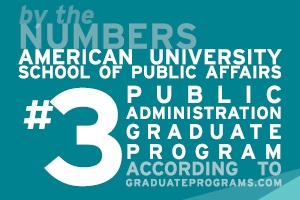 American University's School of Public Affairs (SPA) graduate program in Public Administration ranks 3rd in the country, in a list recently compiled by graduateprograms.com. SPA's graduate program in Public Policy was also ranked the #13 program in the country.

Graduateprograms.com based its rankings on ratings and reviews contributed by current and recent graduate students between September 1, 2012 and September 30, 2015. Rankings are based on a 10-star system, with one being the worst and 10 the best. The entire roster of programs can be viewed here: www.graduateprograms.com/mpa-rankings/
Graduateprograms.com assigns graduate programs 15 ranking categories covering a variety of topics such as academic competitiveness, career support, financial aid and quality of career network. The rank of each program is determined by calculating the average of scores in each of the categories.
"I am happy to see this pattern for SPA across rankings platforms. We are ranked 5th in the world and 3rd in the U.S. for research impact (JPAE), and are now 3rd in the eyes of MPA graduates," said Barbara Romzek, Dean of SPA. "Strong rankings from our graduates endorse the excellent education our students receive and the reputation of our graduates take with them into their careers."
Graduateprograms.com has collected reviews of more than 1,600 graduate programs from more than 75,000 students and recent graduates.
Established in 1934, SPA offers top-ranked undergraduate, graduate and executive-level programs to build and enhance careers in public service. The school combines world-renowned faculty and transformational research that drives progress in policy, politics and public administration. SPA is ranked third in the US for public affairs research impact, and is the only school with three Gaus Award recipients for a lifetime of exemplary contribution to political science and public administration. Learn more about SPA here.