Student Life
Students Present Timely Research at the SPA Undergraduate Research Symposium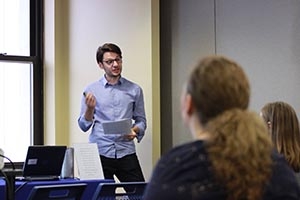 More than 40 School of Public Affairs' students presented research during the 9th Annual Undergraduate Research Symposium.
"The symposium provides opportunities for students to conduct and showcase their own creative research, while demonstrating the attributes of a successful researcher: curiosity, perseverance, discipline, and creativity," said SPA Dean Barbara Romzek. "Students have all done extraordinary work. And I am so pleased to see the results."
The research symposium included posters and presentations throughout the day by students from a variety of academic programs on campus. Students presented on topics including public health, environment, elections, immigration, urban governance, and more.
Faculty judges were selected to look for the best presentation and poster. Prizes were awarded to students at the end of the day. You can find the complete list of winners on the symposium's website.
"Our students presented thoughtful, objective research on a wide range of issues," said Saul Newman, who served as faculty judge and is also SPA's Interim Associate Dean for Undergraduate Education. "For many of our students this was mission-driven research rooted in their commitment to social justice. I was inspired by both the quality and passion of the student presentations."
The event is the first of three opportunities SPA offered this Spring for undergraduate students to present their research. The Leadership Program recently hosted their own research symposium as well as the students in Government 310, who presented their final projects to the SPA community. By the end of the semester approximately 120 undergraduate students will have presented their finding on a wide range of timely topics.