Achievements
Undergraduate Students Present Research at a Prestigious Forum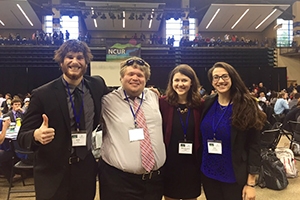 The School of Public Affairs sponsored six students to attend and present their research at a prestigious forum for undergraduates from across the country. The 30th annual National Conference on Undergraduate Research (NCUR), which promotes undergraduate research, scholarship, and creative activity in all fields of study, was hosted by the University of North Carolina at Asheville.
"It's critical for undergraduate students to be involved in research," said Jessica Waters, Associate Dean for Undergraduate Education at SPA. "It provides a wonderful opportunity to gain a deeper understanding of what goes into a research project and offers new perspectives on the topics they select to study."
The SPA student presentations include research on government trust, the International Military Tribunal at Nuremburg in 1946, mental-health on college campuses, the connection between higher minimum wage and a lower rate of incarceration, and the treatment of Jewish communities in pre WWII Germany.
"The most important concept I've learned in my research is that all it takes is one piece of legislation to define the future for millions of people who may become caught up in the prison system," said Noah Levy, SPA '16. "I came to AU with a dream, and NCUR is one of the things that has me living it."
For more information, visit our website on SPA research.