Achievements
SPA Awards Enable Students to Undertake Internship Opportunities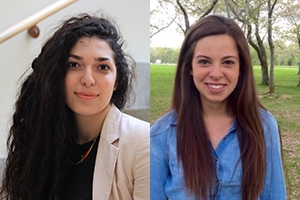 The SPA Internship Award recently enabled two SPA undergraduate students to undertake rewarding D.C.-based internships. Mariam Khorenyan, a sophomore pursuing a five-year master's degree in public administration, and Laurel Cratsley, a junior in SPA's CLEG program, received the awards from the SPA Dean's office.
Khorenyan interned in the Office of Civil Rights and Civil Liberties at the Department of Homeland Security, where she now works part time. Cratsley interned on the staff of Sen. Bob Casey Jr., the senator from her home district in Pittsburgh.
"It was one of the best days of my life," Cratsley said, recalling the day she received the stipend. To qualify for the grant, an applicant must have an internship offer, have at least a 3.2 GPA, and demonstrate financial need; without funds to help cover their housing costs over the summer, both students said, they would have been unable to accept the unpaid internships.
Cratsley, 20, said the internship helped her to clarify "what I am passionate about"—federal policy on education.
Khorenyan, whose family moved to the U.S. from Armenia just six years ago, called her internship "a once-in-a-lifetime" opportunity that taught her "how important it is to go to school." Before entering AU, the 18-year-old had worked as a secretary and receptionist for law firms and other organizations. The DHS job was a departure: Her responsibilities included processing complaints about alleged civil-rights violations and working on the issue of unaccompanied minor immigrants. In an essay on her experience, Khorenyan noted that she "learned things about myself that I did not know before": that she has "a great passion for helping children" and that she wants to work for the federal government."
Cratsley said she was thrilled that her internship entailed "substantive" work beyond the clerical duties she had anticipated. She and 15 other interns were organized into seven "clusters," each focused on specific legislative issues. Cratsley was assigned her favorite topic, education, and she attended numerous briefings and hearings—her schedule was full because reauthorization of both the Higher Education Act and No Child Left Behind were pending – and reported on her findings in memoranda to the senator.
Cratsley said she now realizes that her original plan—to wait tables while interning—would not have worked. Her summer job on Capitol Hill turned out to demand all of her attention. Without the stipend from SPA, her congressional internship would have been out of reach.